Yes, I've already got a great list of clean skincare products that I recommend for sensitive skin. But if you're dealing with  perioral dermatitis, it's a whole 'nother level of sensitive.
You can get the full scoop about my experience with PD here, which walks you through what worked, what didn't, and how I ultimately healed PD naturally and restored my skin barrier. But I thought it would be helpful to also provide an easy list of products that either directly aid in the healing of perioral dermatitis or are simply safe to use while riding the PD roller coaster.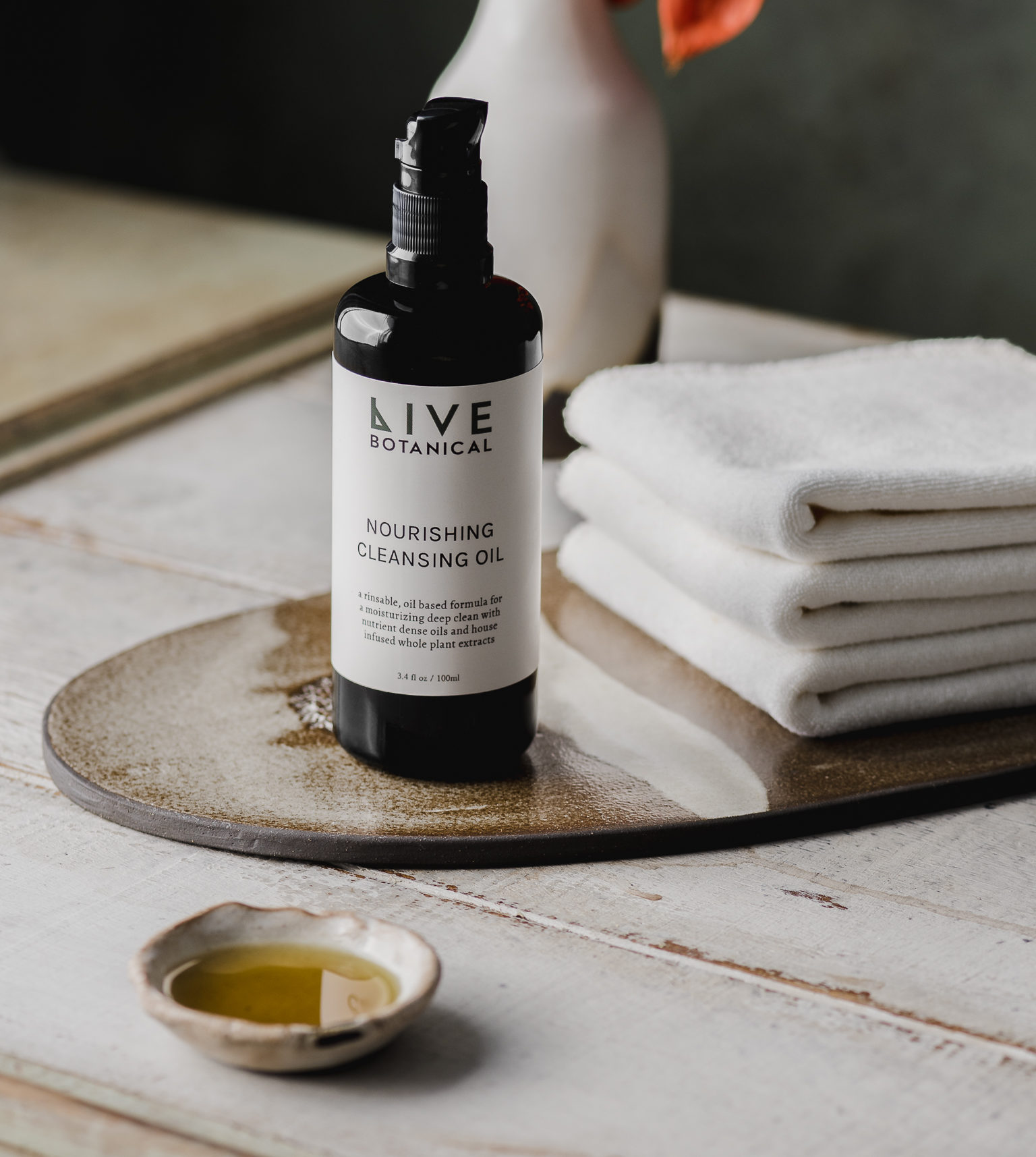 LIVE BOTANICAL | Nourishing Cleansing Oil
This oil cleanser is nothing short of stellar. When I was battling PD, this was one of the key elements to recovering my skin barrier. For me to love an oil cleanser it needs to wash clean WITHOUT double-cleansing (over cleansing can worsen PD), and this does that while removing makeup, sunscreen, the works. Extremely gentle and non-irritating, but super effective. Won't be without it.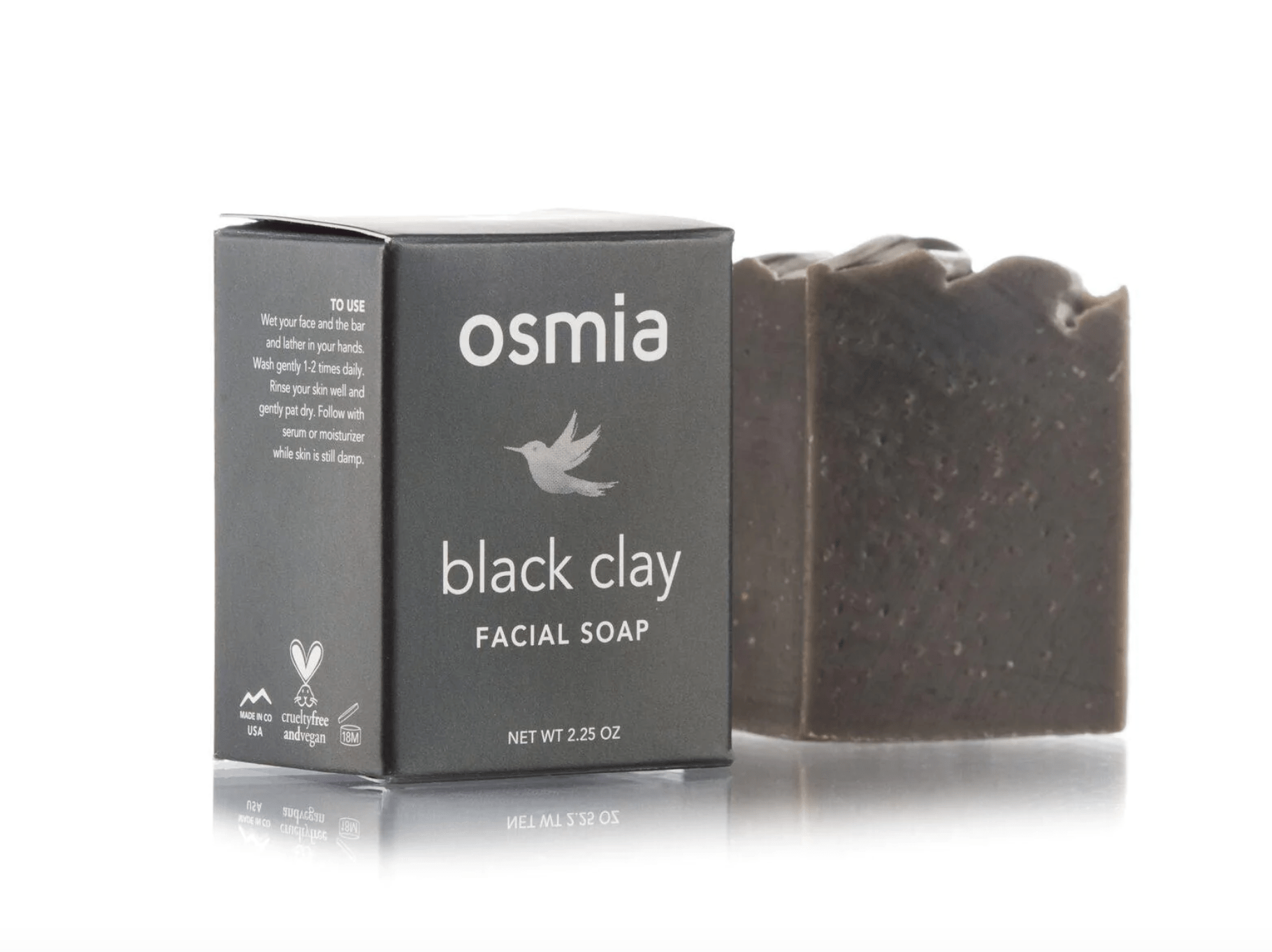 OSMIA | Black Clay Facial Soap
You'll see this soap pop up when you're googling 'perioral dermatitis cleanser', and the combination of Black Australian clay, Dead Sea mud, several organic oils and coconut milk is DEFINITELY healing. Truly a little bar of magic. But if you have skin that leans dry (or super sensitive), I'd recommend using this in rotation with a gentle oil cleanser, as it can be a bit drying (which is great for getting rid of pustules, but not great for healing your skin barrier).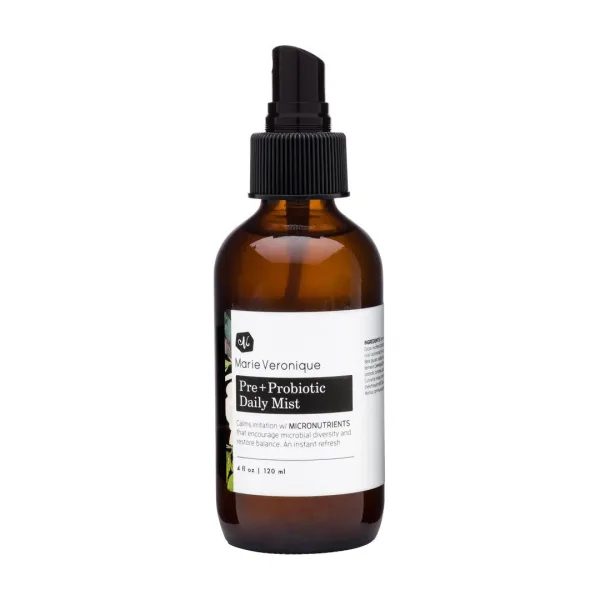 MARIE VERONIQUE | Pre + Probiotic Daily Mist
I was not a believer in toners/mists until I tried this. This is truly the one item I have to use whenever it looks like I may be starting a perioral dermatitis episode again (Marie Veronique's line in general saved my skin after trying so, so many 'remedies'). Much easier than a greek yogurt mask, and just as effective if not more so. Won't be without it.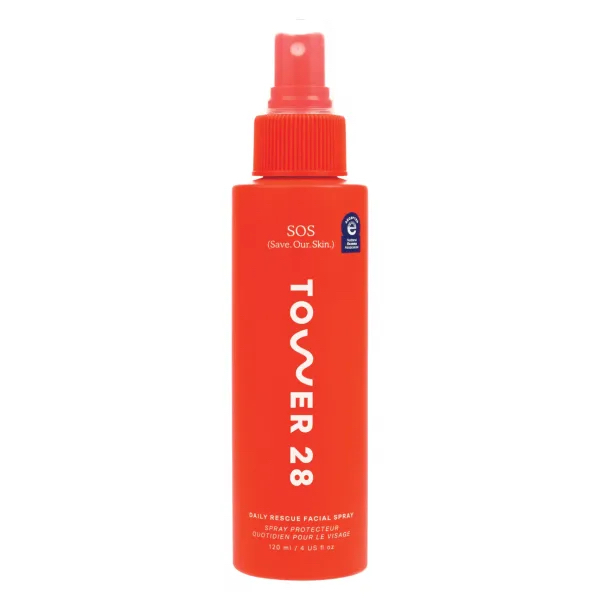 TOWER28 | SOS (Save. Our. Skin) Daily Rescue Facial Spray
I thought my PD (perioral dermatitis)-fighting arsenal was pretty solid, so as much as I'd already come to love this brand, I didn't immediately pull the trigger on trying this. So dumb. The glowing reviews are all well-deserved as this mist is something special. If you have any type of skin sensitivity, jump on this. You'll see redness start to dissipate IMMEDIATELY. It has become my daily routine to spray this on and let it dry while I get dressed, before I begin layering on my other products. Definitely one of my top picks in clean beauty for 2021!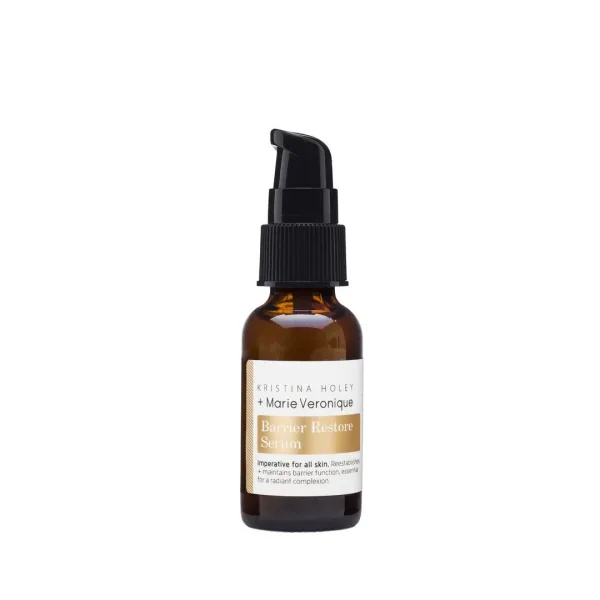 MARIE VERONIQUE | Barrier Restore Serum
Have I mentioned that Marie Veronique's line completely saved my skin from perioral dermatitis? This is one of those products that I get really antsy about getting low, because it literally stops a PD break-out in its tracks when I see it coming on. Absolutely phenomenal at re-balancing barrier function. Magic in a bottle.
MAYA CHIA | The Straight A™
If you're looking to add a gentle, clean retinol treatment back into your routine, this is the one. I added this back into my routine once the PD was visibly under control…retinols can be cause flaking/dryness, but they're also great for balancing and smoothing, so I find it's all about timing when using a retinol during a bout of PD. In the warmer months this is plenty moisturizing for me, but in the winter I layer with a cream.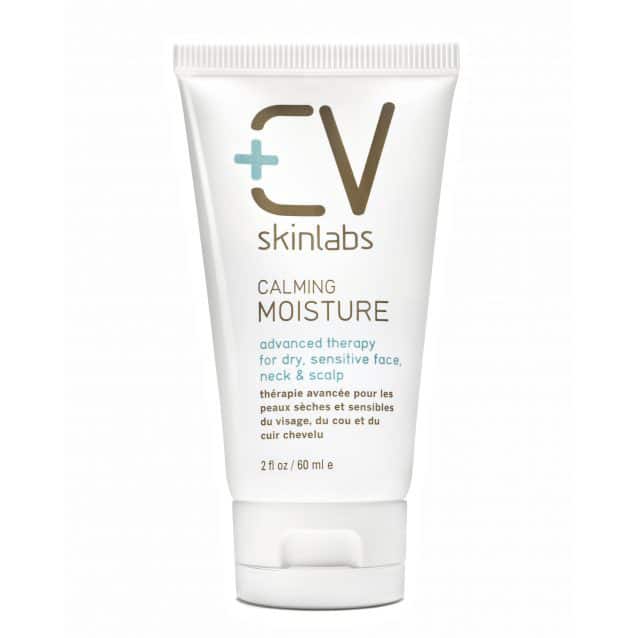 CV SKINLABS | Calming Moisture
This is one moisturizer I think everyone should have in their arsenal. This is a light-feeling lotion, but boy does it hydrate. It also soothes irritated skin and calms redness. Fragrance-free and safe for the most sensitive of skin. It's been a lifesaver for times when I couldn't use anything else, and has also been great on my teenagers' skin when dealing with irritated acne flare-ups…hydrated without causing more acne. Another one I won't be without!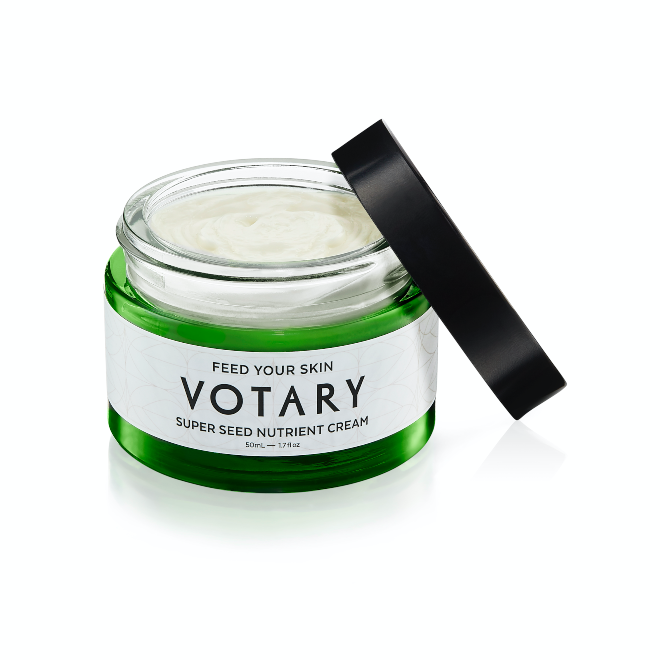 VOTARY | Super Seed Facial Oil and Super Seed Nutrient Cream
Oooh Votary, you kill me. I got this duo from Boxwalla for a killer deal, and while I'm so glad to have found them, when I run out of the stash I've acquired (thanks, Poshmark!) I'm not sure what I'll do. These are spendy, folks. But the oil is fragrance free and fantastic…and on days my skin is super-reactive, it's my go-to as I know it won't irritate in any way. And the bottle is huge…since I rotate it with Le Prunier, it's lasted forever. But the cream…ooooh the cream. It is so nourishing (think old school cold cream at night!), but somehow has this fantastic matte dry-down. It soothes and calms and hydrates like nothing else. I don't need the cream as much in the summer (unless I've been a bad girl with my SPF), but in the winter, it's a lifesaver for dry skin and what I reach for most nights. Hard to come by in the States…hoping more shops pick up this line!
for deep/treatment moisture…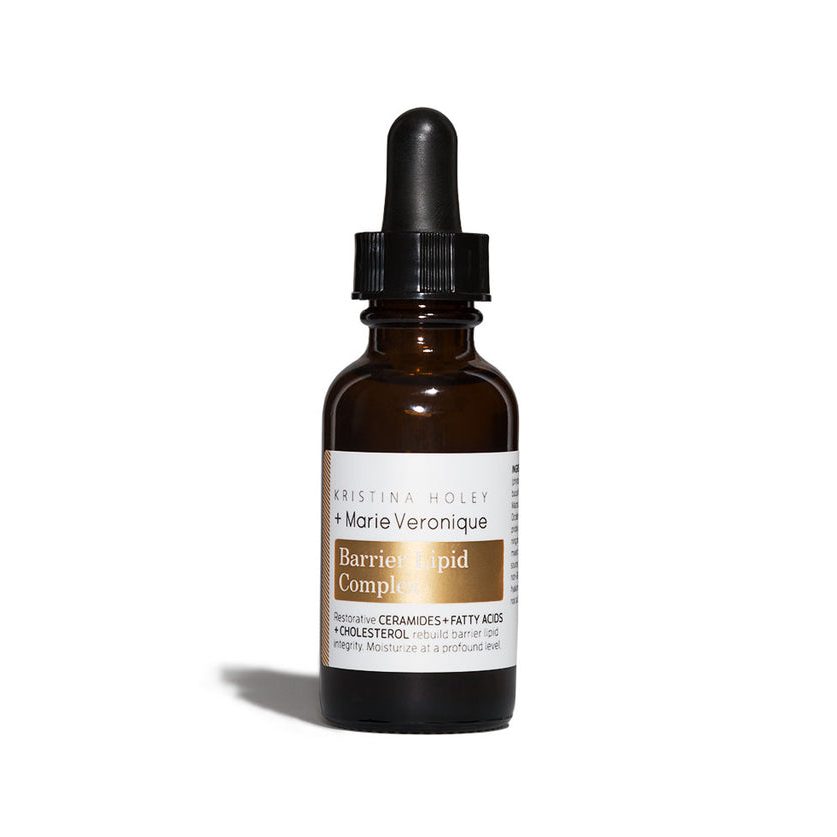 MARIE VERONIQUE | Barrier Lipid Complex
I pondered placing this in the 'Serums' section, but it truly does belong here as it's a killer of a moisturizer! Again, it's one of the products that saved my skin during bouts of perioral dermatitis…key to healing my skin's barrier. As you'll read in reviews, it does not smell great. But it also doesn't have any essential oils, which makes it great for sensitive skin and treatment for PD. And it just feels so damn good when you put it on. In the summer I don't need this quite as much…maybe once a week, or just if I can feel any dry patches (or PD) coming on. But in the winter, every 2 nights keeps my skin happy. Can't be without it, I stock up during sales!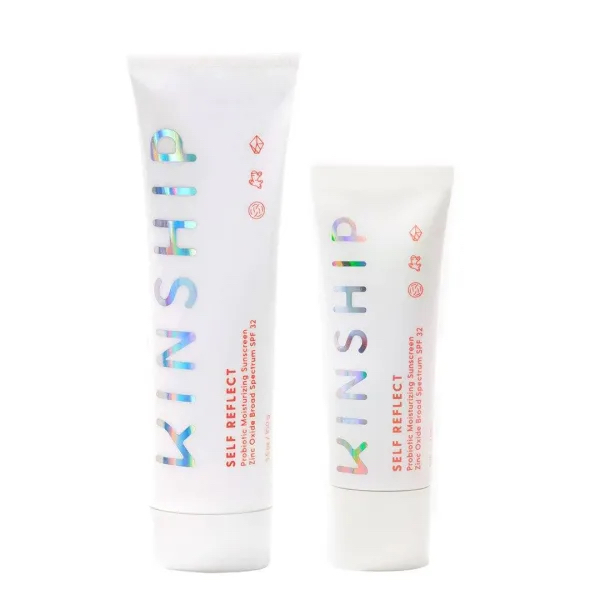 KINSHIP | Self Reflect SPF 32
I did a big breakdown on the best clean moisturizers with SPF for sensitive skin…several of those might work for you during a PD flare up, but this SPF was my go-to. I discovered it when I was right in middle of my battle with perioral dermatitis…I needed an SPF that had no essential oils, no titanium dioxide and a high level of zinc oxide. This checked all the boxes AND had probiotics in it, which seemed perfect! And it was – it was a lifesaver in that not only did it not further irritate my already pissed-off skin, but I'm sure the probiotics helped in the healing. It's also blue light protective. A stellar product, and should I ever have to deal with PD again, I'll go back to it (it's a bit on the glowy side which is not my usual jam, but it was so helpful I didn't care)!
DR. OHHIRA'S | Probiotics
Probiotics were the first items I added into my natural PD-fighting arsenal. Almost every article I read mentioned it, and we know that gut health effects so much so I knew it couldn't be a bad move. I incorporated probiotics in 2 ways: I took this oral probiotic AND I did a plain greek yogurt face mask twice a day (applying topically helps the good microbes on your skin, providing balance and restoration).
NATTURA | Complete Omega – Sea Buckthorn Oil
Healing the skin barrier is key to getting rid of perioral dermatitis, but I think you've got to work from the inside out as well as apply topicals. Sea Buckthorn Berries are rich in Omega-7 fatty acids, providing moisture, anti-oxidants and anti-inflammatory properties.
Disclaimer: This page includes affiliate links, and I will earn a commission if you purchase through these links. Please note that I've linked to these products purely because I recommend them and they are from companies and brands I trust and have tried myself. There is no additional cost to you, and any commissions received just help keep this site chugging along.