Last Updated on March 14, 2023
So you're pondering a switch to clean beauty products. But how to get started? If you're like me, you might be in a bit of a panic about where exactly to start, and worrying about finding dupes of your ride-or-die products (hello, Nars All About Eve eyeshadow? Waterproof mascara? All of my beloved lipglosses?), the expense of it all, and how 'clean' you really need to be. Not to worry, I've got you covered. Below you'll find my 5 simple steps to switching over to clean beauty products.
But first, let's do a super brief dip into what makes clean beauty different from traditional beauty products.
Obviously the biggest factor here is ingredients. Sadly the beauty industry is one of the least regulated when it comes to the safety of chemicals used. The US in particular is way behind ball, while Canada and the EU are kind of killing it (the EU bans or restricts over 1,300 chemicals from cosmetics, while the FDA only has 30 on their list).
But the idea of what is clean beauty can have different meanings to different people. For me it means non-toxic ingredients for us AND the environment, transparent labeling (ie, that pesky 'fragrance' listing that can equate to a whole host of rando chemicals) with ingredients that are sustainable and cruelty-free. Notice that I don't mention 'natural'. We'll deep-dive into that in a later post, but for now just know that products can be 'clean' while still having lab-created ingredients, while there are definitely some products out there labeled 'natural' that have a whole host of nasties in them (also a rant for another time).
Do I really need to make the switch?
Obviously my answer is YES. A few years ago my body started growing things it shouldn't (stupid ovarian cysts, stupid Phyllodes tumors). When that happens, you start to look for things you can change, things you can control, so as to hopefully avoid more unwanted guests. At the time I had already been cooking with healthier, cleaner ingredients, so I took a look at what I put ON my body. You've heard it before, your skin is your largest organ, and while it does a fantastic job of protecting us, lots of stuff gets through (also, do a search on how much lip product we ingest over time…YUCK).
And while you may be thinking that choosing clean vs. traditional beauty products is choosing between extremes, I would say that clean is where ALL of beauty needs to be, and by choosing healthier products for the body and the environment, not only am I helping myself (and my family), my purchasing habits are doing a small part to help an industry make the turn it needs to make. I have a happy medium within my clean beauty routine: I don't necessarily need organic, I'm ok with some lab-created ingredients, aaaaaand I still use my Tretinoin).
Switch to Clean Beauty in 5 Simple Steps
So here we go! It's not rocket science, but it can be a daunting project. The key is to break things down in manageable tasks, take it at your own pace, and work within your budget (clean beauty does NOT have to cost you a fortune).
1. Stash Inspection
Spring cleaning time! You and I both know you've got a drawer, shelf, etc. full of cosmetics, skincare and haircare products some of which hasn't seen the light of day in a long, long time (I wish I'd kept a picture of the embarrassing amount of items I'd accumulated, so know that you're in good company). You've been meaning to go through and throw away old stuff, so now's the time. Switching to clean beauty is a great time to streamline your routine (and if you're in your mid-40's like me, less is more in the make-up department anyway!). So purge away, and figure out what products you really use on the regular and can't live without.
2. Make a list

Now that you've done the big purge (all that space you now have, doesn't it feel good?! great time to do some reorganizing and buying of cool containers), within each category of products, go through and make a list of products that you use. I'd recommend doing this in a note on your phone so that it's always handy, or create yourself a spreadsheet if needed. Then within that list, make note of any products that are holy grail items. So for example for me, I needed a dupe for the aforementioned eyeshadow because I used it almost every day, and I had a few lippy shades that I loved, and I had a face SPF that was amazing (and took me a long time to nail down, ugh!).
3. Decide which products to switch first

Your list might differ a bit based on what you use, but my switch plan started with these (if you'd like to see what I'm currently using and loving to get you started, I keep an updated list here):
LIPS | I've always been a lip balm, lip gloss junkie. It's a problem, I'm working on it (not really, who am I kidding?). But seriously, you're putting products on your mouth, and when we talk, eat, drink, smooch…they're definitely working their way inside. /edited to add: check-out my top picks for Clean Lip Balm to get you started!
SKINCARE | Start with your basics: moisturizer, eye cream, cleanser. Then move on to your treatments, but the basics that you use in your everyday routine go first.
SUNSCREEN | Everyday face SPF, then your body 'screen. There are some real doozies in traditional sunscreen. Look for mineral-based ones that are reef-friendly.
DEODORANT | Definitely top of my list (see note above about stupid Phyllodes tumors…). Sadly there isn't a clean anti-antiperspirant as apparently there's no effective replacement for the aluminum that keeps a girl dry, so this is a tough category for me (deodorant is no match for hot flashes in the middle of a humid summer). But it's evolving all the time and there's been huge leaps in effectiveness this past year.
MASCARA | Anything applied near your eyes is really important, not only for avoiding toxins but any sort of irritant, and nothing gets closer to your eyeball than mascara. Plus of all the eye makeup, mascara is the one I'm guaranteed to use (used to I wouldn't leave the house without it…ah how middle life changes things).
4. Do your research

In the beginning, I think it's easiest and the least overwhelming to just shop with stores that you know only carry clean products (I'll list some faves below). You'll be able to read product reviews on those sites, plus there are a ton of great clean beauty blogs out there with in-depth reviews and swatches that are super helpful. Once you get your feet wet, get familiar with the hell-no ingredients and decide what you are and aren't cool with, you can start investigating products you come across elsewhere using EWG's Consumer Guides and/or the Think Dirty app.
5. Take a deep breathe and have fun.

I mean, you've just given yourself a legitimate reason to shop! But really, this is not something you have to accomplish in a day, week, or even a year. Don't pressure yourself, and swap things out at your own happy pace. If you're not comfortable wasting product, you do you…finish it up, then switch to the new clean option. Also know that clean products don't have to equal expensive products. So if you're swapping out as you finish items, you don't have to spend more than you normally would on your product replacements. You can, but you don't have to! There are many clean brands that have kept their price points very reasonable.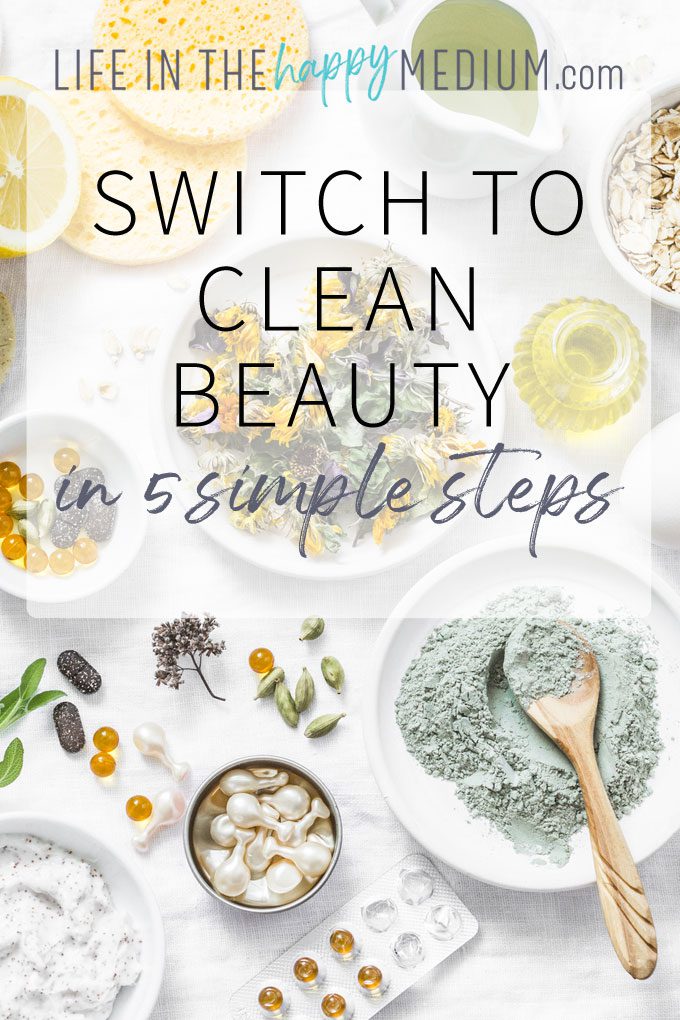 shopping recommendations
I have a list of my favorite places to shop clean beauty right here (along with a few faves from each), but here's a quick list of sites to check:
Credo | make sure to visit their Dirty List, great resource!
(note that both Target and Sephora have items that fit their own respective green/clean guidelines and are also great places to shop, but the folks above will be easy shopping in the beginning until you're ready to do some label digging)
I'm keep an updated list of favorite products…these are products I'm currently using and highly recommend, a great place to get you started!
I wish you much luck on your clean swapping journey! Please comment below with any questions, or to share your switch experience.
Tracey is the founder and writer of Life in the Happy Medium. She's also a freelance graphic designer, Mom to 2 teens, Wife, and Friend to a tribe she holds dear, who's prone to some fairly serious car singing and dancing much to her family's chagrin (old school R&B is where it's at!).
From cleaner beauty to healthy-ish eating, she's blogging here to share favorite finds that keep her happy in the middle.
Disclaimer: This page includes some affiliate links, and I will earn a commission if you purchase through these links. Please note that I've linked to these products purely because I recommend them and they are from companies and brands I trust and have tried myself. There is no additional cost to you.