Last Updated on September 27, 2022
I am definitely a brand-loyal kind of gal, and few lines take up more real estate on my shelf than Maya Chia. If you've followed me here or on Instagram, you already know about my love of this skincare line. The founder and formulator, Susanne Norwitz, has crafted a line of products that are innovative, clean, and EFFECTIVE. Best of all, everything I've tried from Maya Chia has been safe for my uber sensitive skin.
Let's dive in! All products mentioned in this Maya Chia review have been purchased by me (several times over!).
BRAND SPOTLIGHT:
Maya Chia
I've been using Maya Chia products for over 3 years now. My gateway product: The Eye Achiever. Best eye product on the market, but more on that in a bit.
Obviously Maya Chia's focus is right in the name…chia. Chia seeds are one of the most nutrient-dense plant sources of omega-3 fatty acids, vitamins, minerals and antioxidants. It's benefits are many. In fact if this report doesn't sell you on the therapeutic and nutritional potential of this amazing little wonder seed, I don't know what will.
But what makes MAYA CHIA so special?
I really appreciate when a line includes just a few products. That tells me that it's a finely focused, thoughtful, curated brand, and that is certainly the case with Maya Chia. It's abundantly clear that each product is honed to perfection before launch, with so much thought and care given to what products are offered. Susanne's formulations are all so unique…they are each truly one-of-a-kind. Here's a few more reasons Maya Chia skincare is so awesome:
Powerhouse ingredient, Chia Oil – The foundation of all Maya Chia products. They use their own patented supercritical process to safely extract the purest and most effective form of chia seed oil (and they apply that same veracity to all of their other ingredients as well).
Innovative, clean ingredients that WORK – The simple truth about this line is that the products are effective. You WILL see results. And MC does this by finding the highest quality, natural, organic, wildcrafted, efficacious, next-level ingredients from conscious growers around the world. Along with harnessing the goodness of chia oil, Maya Chia was one of the first to bring several groundbreaking ingredients to skincare products, including Astaxanthin (which is 65x stronger than vitamin C!) and a BHT-free retinol.
No nasties – It goes without saying, but Maya Chia products are free of all of the standard nasties (parabens, phthalates, synthetic fragrances, SLSs, PEGs, or SLSs, etc.).
Sensitive-skinned people can rejoice – I've tried much of the Maya Chia line, and haven't had any issues with my crazy skin. And given the power behind many of the products, that's pretty damn amazing. In fact, one of the things that has made me a Maya Chia fangirl for life is that for the first time, I can use a vitamin C serum. Like, in ever. And if you've been sensitive to retinols, stay tuned, because MC has you covered there too!
I've liked every single product I've ever tried from Maya Chia, but in keeping with tradition I'll spotlight my 5 favorite Maya Chia products (plus a bonus…a new product that just recently launched!). Like our children, I can't pick a favorite, so these are in no particular order and all equally superb.
You can purchase Maya Chia products directly from their site, but I'm also providing links to 2 of my other favorite shops as well, because you never know who's running a sale or has a promo code available!
Keep in mind that my skin is pushing 50 soon, a bit combo in the warmer months, dry in the colder and super freaking sensitive. That said, several of these work for all different skin types (you'll see on the Maya Chia website that you can search by skin concern/type to see what fits your needs).
My current top picks from MAYA CHIA:
If you're looking to add a gentle but powerfully effective, clean, plant-based retinol treatment to your routine, this is the one. I could use this every night without any issues (I've done it just to see if I would develop any sensitivity!), but I typically insert a moisture-bomb night once or twice a week, plus a night or 2 of Altreno (tretinoin). In the warmer months this is plenty moisturizing for me, but in the winter I layer with a cream. Best clean retinol, hands down. Fine lines and acne get the buh-bye with this miracle juice. And while on the spendy side, one bottle lasts me quite a long time (1 small squirt is plenty per application!).
This was the product that introduced me to Maya Chia. I was wary of an oil-based eye cream/serum, but that worry faded instantly away once I saw how well it plays with makeup, and how freaking effective it is. I love that it's so good that I don't know how good it is until I cheat on it and use something else for a bit (the grass is not always greener…learn, Tracey, learn!). Definitely makes a difference in fine lines. And this little bottle lasts a looooong time…only a wee bit is needed. My only complaint is that with the dark bottle I can never tell when I'm dangerously low (though yes, I know the dark glass keeps it safe)…. I've converted many to this little gem…it's truly a workhorse.
I'm not gonna lie, I was a bit scared to try this, as vitamin C serums in the past really jacked my skin up. In fact I hadn't tried one in 5 years and had basically given up on being able to use one, even though I always felt like a vitamin C was one of the things lacking in my anti-aging arsenal. Last year I really needed to hone in on hydration, and the reviews for Superlift pushed me over the edge. I tried it…slowly. And I'm thrilled to say that I've finally found a vitamin C serum that doesn't freak my skin out! And big fat bonus points: it really does have a lovely, immediate firming effect on the skin, plus provides a nice layer of moisture beneath my oil and SPF. And the smell…it's like walking through an orange grove. I'm forever your girl, Maya Chia. One of my picks for Best of 2021!
This is one of those products that sits on your nightstand and you don't realize how much you rely on it until you've hit the bottom (which takes forever, btw…I've had mine for a year!). Truly a multi-purpose wonder balm, it's fantastic on the lips, perfect for dry hands (not greasy!!), cracked heels, dry/dehydrated toenails (yes, that's a thing)…basically anything that needs moisture locked in and healed. It's super concentrated so just a dab will do ya, which is why the pan will last you ages. I love to gift this…and it makes a great stocking stuffer!
When this launched last winter, my skin was not in a happy place, which made me wary to introduce something new. But I hate to miss a good launch deal and my luck with Maya Chia has always been stellar, so I grabbed it. And boy am I glad I did. Not only did my irritations go away, my skins just looks…younger. I've tried so, so many anti-aging creams in the past decade, and this one right here is truly the only one I've used that has provided real, visible results. I wish I could afford to slather it over my entire body every night! Great on its own after misting, or I like to mix a wee bit with a pump of The Straight A. Believe the hype, this one is a hero product! (also love that they offer refill pods!)
Obviously I'm a huge fan of this line, and I can't recommend these 5 enough. You also can't go wrong with their Supercritical Chia Face Oil as a super lightweight, affordable moisturizer, or their hydrating mist.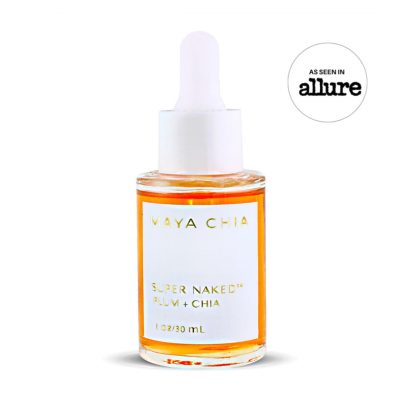 But I'd like to share some thoughts on their newest launch, Super Naked Plum + Chia Face Oil (I've only used this for a couple of weeks, which isn't quite enough time to provide a solid review). I'd sworn I wasn't going to buy any more moisturizers until I've used up what I have, but once again I couldn't miss a great launch deal. And it just sounded so perfect: their already fabulous supercritical chia oil plus Astaxanthin combined with organic virgin plum oil?! I adore my plum oil from another brand, and this combo just had to be a match made in heaven (and speaking of heaven, if you like the smell of marzipan, this is it – no essential oils here, just the natural fragrance of the plum oil). It's lightweight and fast-absorbing, but somehow still very rich (must be all the omegas!)…I'm finding just 2 drops work for me. And it makes my skin so soft and smooth! It's a fantastic makeup primer. I'll update once I've used it a while longer, but I foresee this becoming a new favorite.
Maya Chia offers free carbon neutral shipping to US orders over $75. Sign up for their newsletter to receive 15% off of your first order. They also offer other promo codes throughout the year, so make sure to follow their socials!
–
Have you tried MAYA CHIA yet? Let me know what you're loving! And if you try something after reading this, please comment below and let me know your thoughts!
Maya Chia : The Straight A review, The Eye Achiever review, The Super Lift Vitamin C-More Serum review, Supercritical Chia Waterless Wonder Balm review, The Advanced Response Complex review, Super Naked Plum + Chia Face Oil review
Tracey is the founder and writer of Life in the Happy Medium. She's also a freelance graphic designer, Mom to 2 teens, Wife, and Friend to a tribe she holds dear, who's prone to some fairly serious car singing and dancing much to her family's chagrin (old school R&B is where it's at!).
From cleaner beauty to healthy-ish eating, she's blogging here to share favorite finds that keep her happy in the middle.
Disclaimer: This page includes some affiliate links, and I will earn a commission if you purchase through these links. Please note that I've linked to these products purely because I recommend them and they are from companies and brands I trust and have tried myself. There is no additional cost to you.