Last Updated on June 28, 2023
LIVE BOTANICAL is a huge favorite of this sensitive-skinned gal. This handcrafted, luxurious line is purposely small and beyond wonderful. And in a class that many times is not very budget-friendly, it is much more affordable than most of its peers (and even more so for you, my friend, as the creator has been kind enough to share a special 20% off promo code for my readers!). Given the insane quality and thoughtfulness behind each product, it is a line I HIGHLY recommend. All products mentioned in this Live Botanical review have been purchased by me (several times over, TBH!).
LB SUMMER SALE is June 30th – July 2nd!
25% off site-wide with code: HAPPYMEDIUM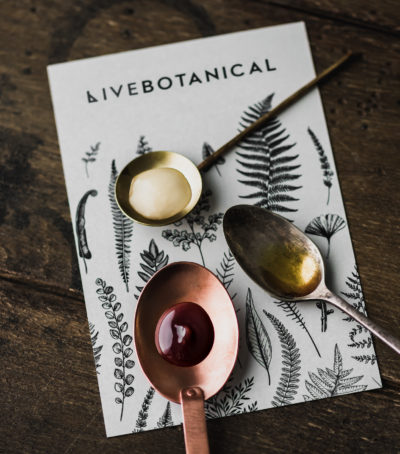 Carolyn McRory is the Owner and Maker behind LIVE BOTANICAL. She is an herbalist, and her path in the sourcing and extracting of ingredients and the formulating of each product is both inspirational and of the highest standards. Just a quick stroll through the LB Instagram feed will mesmerize you with the beauty and appreciation of the ingredients used. Not only is it educational and enlightening (the product descriptions on the website are fantastic as well), but the images and words are just so soothing and beautiful…who doesn't need more of that right now?! Carolyn provides a sense of wonder, beauty and calm in the intentions of her products that's really captivating.
I first came across Live Botanical when I was trying to heal a bad bout of perioral dermatitis. I was on the hunt for a clean, moisturizing oil cleanser that didn't require a double-cleanse. Luckily Carolyn is brilliant and offers mini sizes of her products, so when ordering the Nourishing Oil Cleanser I popped a few other items in my cart. And just like that a love affair with Live Botanical began.
What makes LIVE BOTANICAL so special?
First and foremost, it's plainly obvious how much care and thought is put into every ingredient, every product. But let's take a wee deep dive into the philosophy, standards and benefits of Live Botanical:
Fresh, simple ingredients, regionally sourced – Though it costs them 4-5x more, LB uses fresh herbs to ensure quality and potency. Organic is the preference in their formulas, but if there's not an organic option, Live Botanical works with growers who either follow organic guidelines or use plants that are ethically wild-harvested. Based in Portland, OR, they are focused on bioregional sourcing, so most ingredients are grown in the Pacific Northwest with many coming from their very own garden.
No nasties – It goes without saying, but Live Botanical products are free of all of the standard nasties (parabens, phthalates, fragrance, etc.), and any preservatives or lab-based ingredients are researched extensively for environmental impact and personal safety. The oils, butters and waxes used are GMO free and unrefined (or minimally refined depending on usage guidelines). No animal testing or animal-based ingredients, though they do use bee products (honey).
The Feel Good Factor – Live Botanical is flush in the feel-good. Their sourcing practices are responsible and transparent…they are hyperaware of things like over-harvesting to make sure that the land/source/people are not exploited. Along with their environmental stewardship, Live Botanical donates profits to outstanding organizations that support social and environmental causes (like this one and this one, among many others), working to uplift marginalized communities. And when it comes to their products, each one just seems so intentional and thoughtfully created. I'm not kidding when I say to make sure and read through the ingredient descriptions on the website…you just can't help but feel good about using these products.
Sensitive-skinned people can rejoice – So many of the Live Botanical products work to calm the skin, support and repair barrier function and are extremely gentle. I've not reacted to any product I've tried from LB, and that's saying something!
Friendlier on the budget –  Obviously 'budget-friendly' is a relative term, but in regards to luxe clean skincare lines, IMHO Live Botanical's price point is about half of what many competitors are charging. And as mentioned above, Live Botanical offers mini versions of everything, so you can try products without breaking the bank (great travel sizes, to boot!).  I just love that it's truly a small business and that they aim to keep it that way: "…our products are affordable given the fair labor cost of ingredients used and making everything by hand. This lower footprint also means we don't spend a lot on marketing or enhanced services. What we do offer is access to email the owner and maker with any questions you have." We love that, right?!
There's not a thing I've tried from LB that hasn't been impressive. But for brevity's sake I'll spotlight my 5 favorite Live Botanical products (5 seems to be the magic number today, so let's keep it rolling). Keep in mind that my skin is pushing 50 soon, a bit combo in the warmer months, dry in the colder and super freaking sensitive. That said, several of these work for all different skin types (you'll see on the website that you can search by skin type and other concerns for other recommendations).
Here we go!
My current top picks from LIVE BOTANICAL
Launched this past summer as a seasonal offering, it quickly became one of my most-used products, and even made my Best of Clean Beauty for 2022! Created to be restorative to sun-loved and/or retinol-treated skin, it's hydrating and refreshing (especially so if kept in the fridge!), and contains no essential oils so it's fab for us sensitive-skinned peeps. After adding this to my routine I found my fine lines were definitely improved, plus I didn't get nearly the peeling and dryness from my retinols (plant-based or Altreno). Also perfect after a day in the sun. I used it daily last summer, then continued to use when I need additional hydration in the cooler months (which is basically every day in the winter!) and definitely after retinol treatments. And very happy BIG news…it's coming back as a permanent part of the line starting 6/30!!!
The product that began it all for me! This oil cleanser is nothing short of stellar. When I was battling PD, this was one of the key elements to recovering my skin barrier. For an oil cleanser to work for my crazy skin it needs to wash clean WITHOUT double-cleansing, and this does that while removing makeup and sunscreen, leaving behind moisturized skin. Won't be without it, ever. Oh and my teenager now steals it from me because it works so well at removing her waterproof mascara without causing irritation (she was reacting to a popular micellar water remover).
Also, I deemed it the best cleanser for perioral dermatitis.
A key to keeping my skin barrier happy is hydration, and I've come to rely on mists that provide that hydration as well as provide a few other benefits (remember, you have to hydrate THEN moisturize to lock in the water!). I've tried several of the seasonal LB Elixirs, but the Rose & Tulsi just fits my skin perfectly: it's a "serum in a mist to brighten, calm redness, and soften texture." My skins seems to love Niacinamide, and that along with the abundance of antioxidants in this formula make me skin look smoother, calmer and more hydrated. Definitely a daily staple, and since I rotate it with 2 others the big bottle lasts me quite a long time.
This balm is just freaking gorgeous. And comforting. And a lifesaver in the winter. I don't know how Carolyn works her magic, but this essential oil free balm is not only amazing at sealing in hydration, it's also somehow very breathable. Typically anything labeled a 'balm' will break me out, but not this little beauty. Fantastic as an overnight treatment to lock in hydration and deliver serums/treatments. And the smell is straight out of a walk in the forest…a bit of divinity. While it's superb on the face, I've also used it on my lips, winter hands and cuticles, heels and even a teeny bit on the ends of my hair when my curls were frizzing. I don't use it often in the warmer months, but after a day at the beach I'll mix a bit in with a hydrating serum and it restores and soothes my face instantly. Another staple, so well done.
I'll be honest, I love both of the Live Botanical masks that I've tried (the Glowing Honey Mask was one of the minis in my first order). But I'm a sucker for the gorgeous blue color of Tidal Moon, and it's so good for not only hydrating and moisturizing, but also calming any sort of irritations, including acne. In fact my daughter and I had a girls' night recently, and she was worried this would worsen a little hormonal break-out she was dealing with. She was surprised when it actually made things much better! True magic. Unlike a lot of other honey-based masks, this one isn't sticky at all…the texture is almost like a whipped gel. Once a limited edition, I'm so happy it's now a permanent part of the line!
I can't recommend these 5 enough…in fact I've repurchased all of them. Along with getting my daughter her OWN cleanser (insert smirky face), I plan to try the Hyaluronic Acid Hydrating Serum (I've read many a good review) and the Greenhouse Glow Antioxidant Mask in my next order. I've been testing the First Light Brightening Oil Serum and Vibrant Garden Universal Oil…both are essential oil-free and also get raves reviews. So far so good and no sensitivities…I'll be sure and share my full thoughts after a bit more time!
EDITING TO ADD: I was recently able to try the Greenhouse Glow Antioxidant Mask …check me out in full She-Hulk face here lol.
Live Botanical offers flat-rate shipping at $6.95, but orders over $75 ship free. Annnnd as mentioned, I got you hooked up with a code for 20% off your order! Just use code HAPPYMEDIUM during checkout.
Have you tried LIVE BOTANICAL yet? Let me know what you're loving! And if you try something after reading this, please comment below and let me know your thoughts!
Tracey is the founder and writer of Life in the Happy Medium. She's also a freelance graphic designer, Mom to 2 teens, Wife, and Friend to a tribe she holds dear, who's prone to some fairly serious car singing and dancing much to her family's chagrin (old school R&B is where it's at!).
From cleaner beauty to healthy-ish eating, she's blogging here to share favorite finds that keep her happy in the middle.
Disclaimer: This page includes some affiliate links, and I will earn a commission if you purchase through these links. Please note that I've linked to these products purely because I recommend them and they are from companies and brands I trust and have tried myself. There is no additional cost to you.