Finding a clean daily sunscreen for my teenager that doesn't exacerbate the rollercoaster that is teen acne has been ever so much fun (said with much sarcasm). Everything she tried either flared up the bumps, was too whitening (she's blessed with a beautiful olive skintone), or too drying. Add to that that mama needs it to be teen budget-friendly, the choices were slim. My girl has been long-time fan of the Mighty Patch, and when she saw on a TikTok that Hero Cosmetics now has a clean sunscreen that is not only acne-friendly but also has a sheer green tint to it to blur redness, she sent the scoop my way. Let me tell you, it has been a true gamechanger!!! Force Shield Superlight Sunscreen is a clean gel-cream formula with SPF 30 (zinc oxide), is reef safe, fragrance-free, silicone-free, non-comedogenic and non-irritating. Her skin has been clearer, it has just the right amount of moisture and she says it's perfection under makeup. For under 20 bucks I call it a big win (get it on Subscribe and Save with Amazon and it's even less!). THANK YOU HERO COSMETICS!
Anyone else get their ass kicked by allergies this Spring?! Mine targeted a new area for me this year, my eyes. Itchy, puffy, red = good times. While nothing brings instant relief like my beloved Chill Wands, I was thrilled to discover an eye cream that truly depuffs (and bonus, it also really helps dark circles!!). Youth to the People's Peptides + C Energy Eye Concentrate is a concentrated eye serum packed with peptides, vitamin CG, and caffeine that "visibly brightens, depuffs, and blurs the appearance of fine lines with daily use." I have found all of the above to be true, AND it plays nicely with my favorite concealer. My only gripe is that they need to pick a different pump…I get a little too much product with each press (though I just put the extra on my neck and it's not complaining). Otherwise, a definite favorite find this Spring!
One of the many movies/shows I watched while recovering from surgery earlier this year was Ticket to Paradise. Gotta love a Roberts and Clooney reunion! I also loved Julia's wardrobe in this flick…rompers, jumpsuits, fun hats, and GREAT sunglasses. Sadly those shades are way out of my budget, but if you're looking for a close dupe of the Oliver People's "Cary Grant", Sunski makes a style called "Makani" that's darn close! Not only are they a fraction of the cost, they're RECYCLED! They're also super lightweight, polarized, and the color Sienna is unique and gorgeous. I have a heckuva time finding sunglasses that I like on me, and I've had a lot of lovely compliments with these…I felt very chic roaming the streets of NYC recently!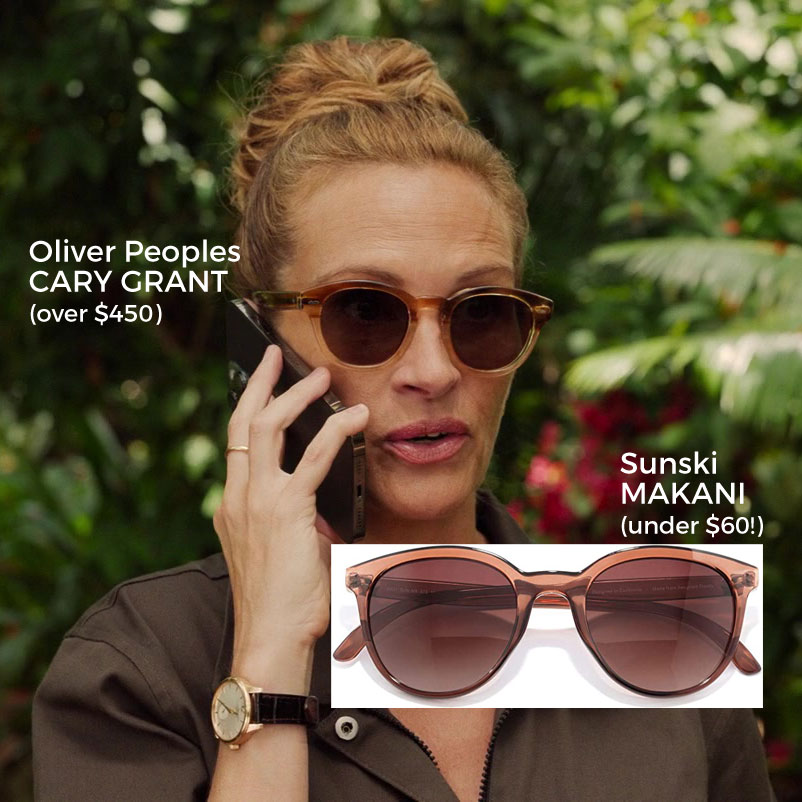 You know I love a multipurpose product, and I've fallen hard for the Lip & Cheek Stick from Jones Road! Lightweight, blends beautifully on the cheeks and feels great on the lips! I never would've picked the shade "Rosy Brown" for me as it looks too rosy in the tube (gorgeous, though I always lean more to the warm side), but it's one of those magical shades that would work on anyone. Puts a lovely pop of natural flush on the cheeks, and makes a lovely warm-rose lip color (you can see me wearing it here). Can't wait to try the shades Tawny Nude and Mauve Rose.
I think I've found the perfect bra. If you're on the hunt for a supportive bra WITHOUT underwire, whether you're post op or not, the Trish from AnaOno is simply outstanding. The fabric is super soft AND cooling, it looks great, has a plunging neckline so works with all sorts of tops, evens and smooths and is just so damned comfortable. Use code EARTH15 this month for 15% off!
I couldn't do any giant Spring Cleaning projects this year, but I did finally tackle the disaster that was my jewelry. I went through my stash and pulled out what I would no longer wear (while discovering awesome things that were buried and I'd totally forgotten about!), gave my daughter what she wanted and donated and/or sold the rest. Then I went on the hunt for something that would display everything and keep it truly organized and separated, so I could SEE what I've got rather than just grabbing what's on the top of the piles. I finally landed on this mirrored jewelry storage cabinet, and it has been AWESOME!!! Not only does it provide a full length mirror in our bathroom (we mounted it on a wall, but you can also hang on a door), it organizes and displays all of my jewelry beautifully. It also has an LED light inside when you open it, and a lock if you need it. Brilliant solution for jewelry organization, I'm loving it!
WHAT I READ
Tomorrow, and Tomorrow, and Tomorrow, by Gabrielle Zevin. I absolutely loved The Storied Life of A. J. Fikry, so this went on my wishlist immediately. And no disappointment, it was a heartfelt, wonderful story about friendship and how it changes through 30 years of life. It also gave a peek into the world of video game development, which while I consider myself a bit of a tech-geek isn't a realm I'm overly familiar with, and it was really interesting. I hated to say goodbye to these characters! There's a reason why this book is on every book club list on the planet. (follow me on Goodreads if you need more book recs)
WHAT I LISTENED TO
Once I was able to get back to both my walks and traveling to watch my kiddo play volleyball, I was able to catch up on all of the Smartless episodes I'd missed! Still my favorite podcast; Jason Bateman, Sean Hayes and Will Arnett are so freaking funny together, and I love how easy they are with each other and how they truly seem to be in awe of some of the folks they interview. Them plugging Sean's play at the 'Tabasco Theater' (the Belasco Theatre ;)) is a hoot, and if you're lucky enough to visit NYC in the next couple of months, be sure and check out Good Night, Oscar. Hayes is absolutely incredible in his role as Oscar Levant…highly recommend (even my teenager loved it!)!!!
…and some happy
You can't help but smile (and cry, if you're like me) when you see this video of a Dad's reaction to his daughter getting into her dream college. Our kids' successes are simply the best successes of all!
Tracey is the founder and writer of Life in the Happy Medium. She's also a freelance graphic designer, Mom to 2 teens, Wife, and Friend to a tribe she holds dear, who's prone to some fairly serious car singing and dancing much to her family's chagrin (old school R&B is where it's at!).
From cleaner beauty to healthy-ish eating, she's blogging here to share favorite finds that keep her happy in the middle.
Disclaimer: This page includes some affiliate links, and I will earn a commission if you purchase through these links. Please note that I've linked to these products purely because I recommend them and they are from companies and brands I trust and have tried myself. There is no additional cost to you.