Last Updated on April 18, 2023
If you haven't heard about Force of Nature's multi-surface cleaner and disinfectant and you're on the hunt for a CLEAN cleaner that doesn't destroy a girls' budget, you're going to want to keep reading. I've been using Force of Nature cleaner for almost 2 years, and I'm happy to share my experience and provide an honest review: tons of pros with just a few minor cons.
This is possibly one of the things I was most excited to share when I started planning this blog. Not only does the Force of Nature cleaner replace most of my standard cleaners in a completely healthy and safe way, but it's saved me LOADS of money. So even if you're not on the #greentrain, you're going to want to check out this electrolyzed water cleaner just to add a disinfectant to your arsenal that will save you some serious duckets (plus I've got a discount code for you!). This is far and away my favorite non-toxic cleaning product!

I don't know about you, but after learning about all of the toxic crud that is allowed into your household cleaners, I went a little nutty: from doing the whole DIY thing to spending a small fortune on 'green' cleaners. Don't get me wrong, I love the idea of making my own stuff, and talk about super easy on the wallet! But no amount of essential oils came close to masking the vinegar in any of the concoctions I tried, and let's face it, cleaning isn't fun but you gotta love the smell of 'clean' afterwards (and sadly that smell is usually provided in the way of chemical-based 'fragrances' that companies aren't required to fully disclose the details of). And the spendy natural-sounding cleaners still have some nasties in them anyway, plus I was just irritated that once again I had to spend extra money to make a healthier choice. #icallbullshit
Finally I'd had enough, and started researching again. I'll be honest, when I first came across Force of Nature cleaner, I kind of blew it off as hype, but it kept popping up. I started doing some digging, and noted things like EPA certifications and read what looked to be real reviews. I finally bit the bullet, and it's definitely one of my best purchases in the past decade (that and a ticket to a Bruno Mars concert, but I digress…). Is Force of Nature legit? It really is.
The Scoop on Force of Nature Cleaner
If you're like I was, you have a lot of questions about how this cleaner actually works, if it really gets the job done and if it's helpful for your budget. Here's my take on the basics:
So what is in this magic cleaner??
Water, salt and vinegar. That's it. No dyes, fragrances or preservatives, no bleach, alcohol, quats, hydrogen peroxide or any other harmful chemicals.
Tracey, I'm pretty sure I can mix water, salt and vinegar together myself.
Agreed. Except the magic happens when electricity passes through those ingredients, which converts it into hypochlorous acid, the active ingredient in FoN cleaner. And hypochlorous acid is a super cool little acid. It's actually the same substance your own white blood cells create to fight infection! Not only is it incredibly effective as a disinfectant, it's also gentle enough to be used for wound cleaning, eye care and food preservation. You can read all about the science behind the process here.
It's safe and clean, got it. But is Force of Nature Cleaner effective?
Yes indeed! So when I came across FoN cleaner, I was specifically on the hunt for a disinfectant. Standard cleaners are fine for most jobs and I'd moved away from using anti-bacterial for absolutely everything (gotta keep our immune system jumpin'). But for bathrooms, door knobs during flu season, and kitchen counters after handling raw meat, etc. mama needs a disinfectant.
When it comes to disinfecting, FoN says:
Force of Nature Cleaner kills 99.9% of germs*, even Staph, MRSA, Norovirus, Influenza A, Salmonella, and Listeria when used as directed.

It's EPA Registered for use in hospitals, daycares, schools and more.

We're proud to be on the EPA's List N, the disinfectants approved for use against SARS-CoV-2, the cause of COVID-19.
Which means when COVID-19 hit the fan, I was extremely happy to have this on hand!!! Though remember, just like any other disinfectant, to sanitize a surface it needs to sit for 10 minutes after spraying before wiping down (not all companies have that tidbit on their labels though).
This hypochlorous acid cleaner does a great job on grease, grimy areas on doors, tile backsplashes and caulking.
But will Force of Nature Cleaner really replace all of my cleaners?
All of them, no. Many of them, absolutely. One of my favorite things about FoN Cleaner is that it's safe to use on my granite countertops (vinegar on its own btw, is NOT). But I was so tickled to find it works fantastically as a glass and mirror cleaner, as many clean 'glass cleaners' were streaky as all get-out.
Here's some of my favorite cleaning scenarios for Force of Nature Cleaner: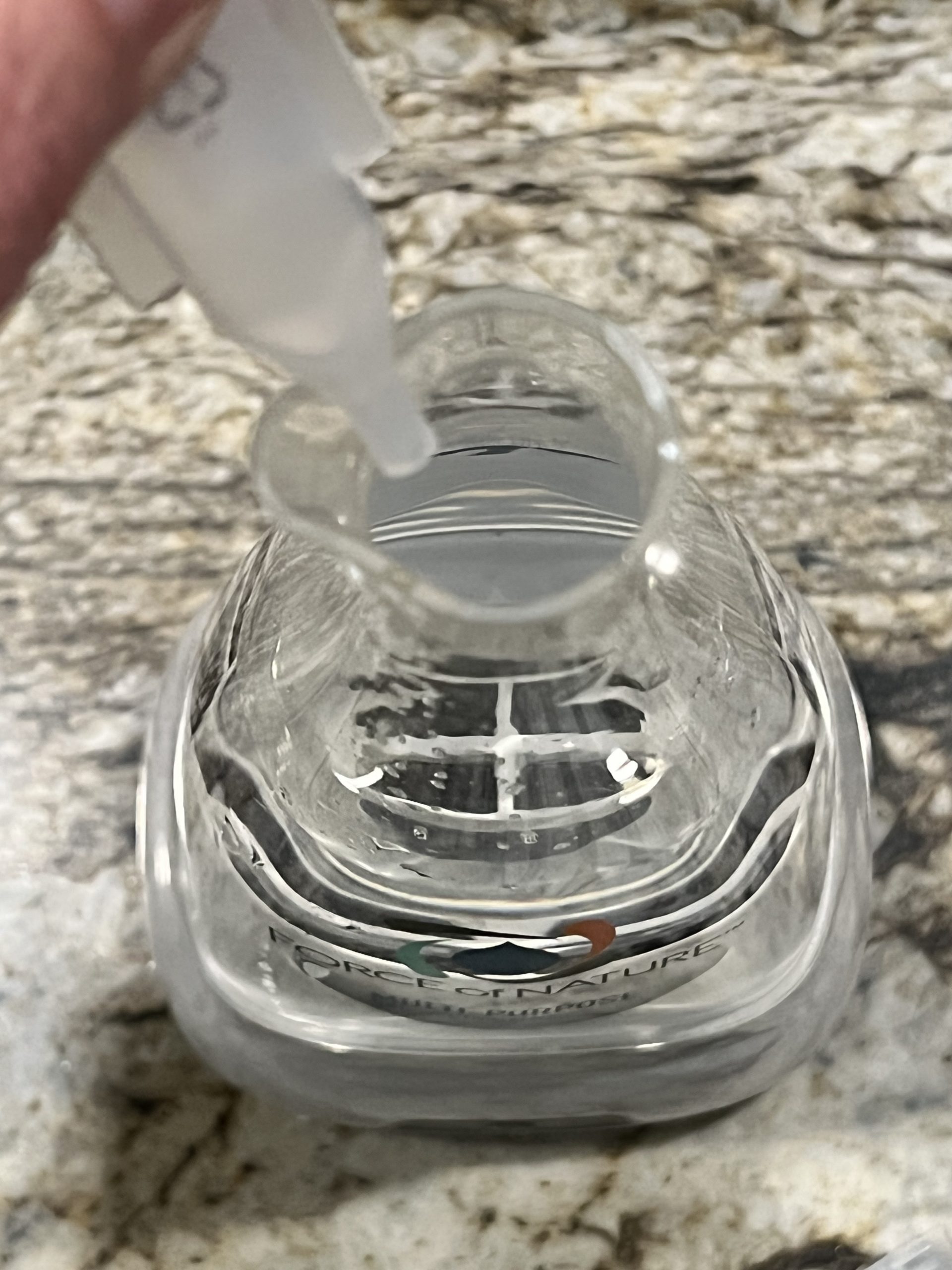 Windows/glass/mirrors
Countertops (safe on granite, quartz and marble)
Bathrooms
Inside of the fridge (instantly freshens and removes odors!)
Stainless steel appliances (with one caveat…see below)
Stinky kids' shoes and athletic equipment – spray the insides of those cleats and anything else that's ripe…gets the funk out!
Hardwood floors (sealed) – get one of those refillable spray mops, add FoN and get to moppin'
Put it in a travel-size bottle and take with you when traveling (was so happy to have it when we started traveling again during COVID-time)
Stinky trash cans
Washing machine refresh – pour a cup into the bleach container and run the tub clean cycle
Dishwasher – spray the bottom of the tub and let air dry for a great refresh
Yoga mat
Dog bed – spray and let air dry, gets the smell out!
Essential oil diffuser – great at removing build up from the thicker oils and any mold that may be trying to grow
How does it save me money?
I get excited about this part. I mean, you fill the container with regular ole water, then add the teeny capsule of the vinegar/salt solution, turn it on and voilà! 12 oz. of cleaner. Basically it works out to about 7 cents per ounce. Compared to my old Seventh Generation Disinfectant at 39 cents/ounce, well, you do the math. Ok I'll do it…it saves about 80%! Couple that with the fact that you'll feasibly be using just one cleaner to do the job of several, and you've really made a dent in your spending.
About those cons….
Obviously I'm a big fan of this cleaner. I know I mentioned there being pros and cons. I guess I wouldn't necessarily say there are cons to Force of Nature Cleaner, but there are some things to keep in mind:
There is no fun fragrance, and you can't add your own (messes with the chemistry). It has a smell reminiscent of a chlorine pool. To me that smells clean and I kinda dig it, but it fades quickly for those that don't love it.
One bottle lasts for 2 weeks. Sure you can use it longer, but the disinfecting qualities of the spray weaken over time. I hesitate to mention this any where near 'con' because frankly, when you're using it for so many things, you blow through the bottle before 2 weeks are up anyway. But for your travel bottles that don't get used up, you'll need to dump those out before your next outing and add new (I actually dump mine in the washing machine bleach container for a tub clean, as it still seems to do a fine job of refreshing the tub). Again, super inexpensive to make, so no big loss here.
For stainless steel, it absolutely cleans great (just make sure to not use a ton at once or really wipe until dry to avoid streaks), but I will say that I find a cleaner that has a bit of oil to it gives a better finish to stainless (unless you have the new fingerprint-free variety, in which case you're golden).
Final thoughts (and those promo codes I promised)

Along with the flexibility, usefulness, budget-helping and cleanliness of this product, you'll also be helping the environment by reusing the same bottle over and over and over again (Green Seal Certified!). Plus the capsules are recyclable! It's truly a win-win, and I really can't recommend this product enough. I only wish Force of Nature Cleaner had been around when my kids were babies…I would have loved to have cleaned highchairs and toys in a safe, non-toxic way, and man would I have loved to have had it for the diaper genie (YUCK)!
Here's the discount scoop: using my link to purchase your starter kit and/or bundles, LITHM readers can enter one of these Force of Nature promo codes for April 2023:
EARTHSAVE40 – 40% off & free shipping on Bundles
ALLIN65 – $65 off the All in One Bundle
Happy cleaning! Let me know your favorite ways to use FoN Cleaner so I can add them to the list above!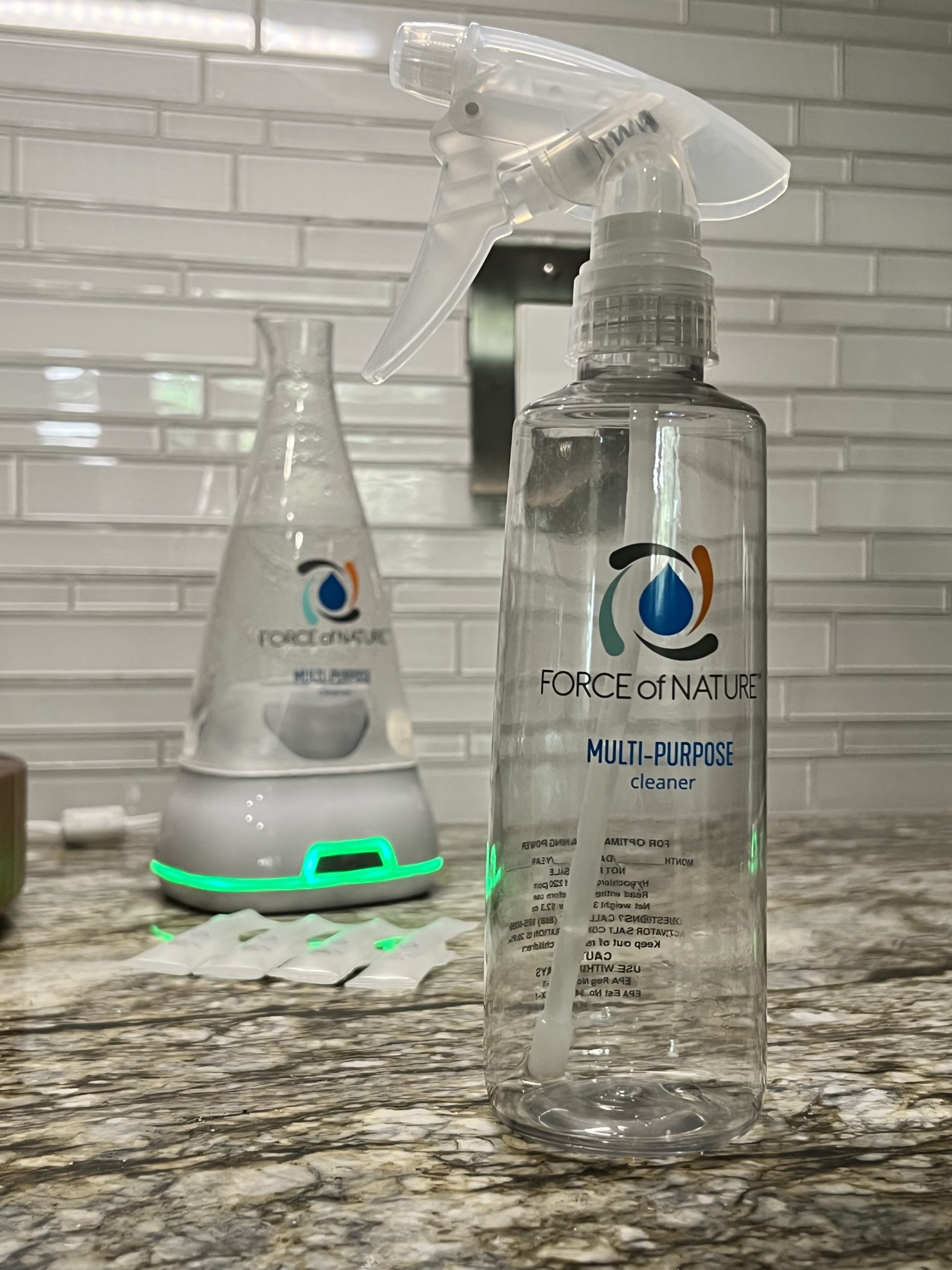 Tracey is the founder and writer of Life in the Happy Medium. She's also a freelance graphic designer, Mom to 2 teens, Wife, and Friend to a tribe she holds dear, who's prone to some fairly serious car singing and dancing much to her family's chagrin (old school R&B is where it's at!).
From cleaner beauty to healthy-ish eating, she's blogging here to share favorite finds that keep her happy in the middle.
Disclaimer: This page includes some affiliate links, and I will earn a commission if you purchase through these links. Please note that I've linked to these products purely because I recommend them and they are from companies and brands I trust and have tried myself. There is no additional cost to you.