In this post I'll share my favorite ways to safely deodorize and fragrance your home (and car!) with nontoxic, safe air fresheners and deodorizers. Includes the scoop on how I broke up with candles, and how we found our way back to each other.
Let's talk home fragrance.
Fragrance is so transformative. It triggers emotions and memories, easily sets a mood, draws us in (or pushes us away!). Though I'm sensitive to fragrance (thanks, allergies and asthma), I love me some good-smelling stuff and a good-smelling home. My journey to nontoxic, safe home fragrancing has been a long and winding one: from LOTS of candles, to wax melts, Lampe Bergers and reed diffusers to the more natural options I now use, I've pretty much tried and love it all at some point.
A True Love Affair with Candles (spoiler, we broke up).
I confess I used to have a bit of a candle problem. As in I owned and burned TONS of candles, constantly (luckily I was newly married and my husband thought my giant stash of candles was cute). Loved the smell, loved the ambience they created. But then information began to float around about some of the dangers of burning scented candles:
The EPA reported that when paraffin wax candles are burned, "…

they emit trace amounts of organic chemicals, including acetaldehyde,

formaldehyde, acrolein, and naphthalene."  None of those are good, but to add a bit of perspective, according to the CDC acrolein is a freaking PESTICIDE that's formed by the breakdown of many outdoor air pollutants such as cigarette smoke. Stellar.
Lead emissions from burning lead-based wicks (which luckily shouldn't be an issue at this point as lead wicks were banned in 2003, but something to keep an eye out for when buying potentially old stock).
Back when I was a diehard candle girl, you were hard-pressed to find candles that weren't paraffin-based. Soy was just making a splash in the market, but even then it was usually mixed with paraffin. So my initial fix to potentially toxic candle-burning was to switch to soy candle melts (tarts). But finding a paraffin-free tealight was also a challenge at the time. So I switched to electric melt warmers. Boom, soot-free. But I sure did miss the sent "throw" of a big ole 3-wick candle, and while there were and are plenty of studies out there that have found that the amount of bad stuff is really not that bad, between my allergies and having 2 littles in the house, I needed a better option. So, I broke up with my candles.
Goodbye candles, hello gorgeous fragrance lamps!
My hunt for nontoxic air fresheners officially began. And thanks to one of the message boards I belonged to that was all things "etailer" and fragrance, I discovered Lampe Bergers. I fell HARD for the beautiful catalytic lamp burners. Gorgeous little works of art, I could even hunt for vintage lamps on ebay. And I felt so good about my "safer" choice…Lampe Bergers were initially created in the 1800's by a French pharmacist to purify the air in hospitals (one might say they were the OG air freshener/purifier), so not only was I making my home smell good, I was cleaning the air of contaminants!
But here's the thing…if only use the unscented fuel (basically Isopropyl Alcohol) you're good to go. But all of the lovely scented fuels contain "fragrance", and by now we all know that that very broad term can be an umbrella to a host of crazy chemicals. Unless it specifically states "essential oil", there's no way to know what those ingredients are that are making up said fragrance.
If I'm honest, while I did love the deodorizing effect of the catalytic lamp burners (they will no-kidding rid your kitchen of that fishy smell left after baking up some Spanish garlic-y shrimp), the scents were mostly too perfumey for my nose, so the fragrance part of things wasn't hitting for me. I moved on to reed diffusers, briefly (not enough scent, too messy). Then I tried making my own nontoxic air freshener spray using a few essential oils for scent (meh…just didn't provide a lasting effect). FINALLY I landed on essential oil diffusers (cue the horns!).
Scent Your Home (and car!) Safely: Essential Oil Diffusers are the BEST Nontoxic Air Freshener
Essential oil diffusers are kind of the ultimate in nontoxic air freshening and fragrancing. Ultrasonic diffusers combine essential oil and water to create a water vapor without using heat…the microdroplets diffuse into the air, providing aroma and a wee bit of moisture (more depending on the size of the unit). Completely safe (as long as you're using high quality essential oils, and do a bit of homework on the essential oils that are safe for everyone to inhale…more on that below).
I had already delved a bit into essential oils when I was making the homemade air and carpet fresheners, but boy did my stash grow quickly once I discovered diffusers! This was ultimate control over home fragrancing: just filtered water and my favorite pure essential oils, in any combination I could come up with or discover.
There are a few keys to essential oil diffusing:
Choose a diffuser that provides enough aroma for the space it will be in.
Using high quality essential oils that are distilled without chemical fillers, additives or synthetics.
If you have pets, be aware that some essential oils are considered toxic to animals, including but not limited to eucalyptus, cinnamon, citrus, pennyroyal, peppermint, pine, tea tree, wintergreen, and ylang ylang. If you plan to diffuse one of these, make sure that you use your diffuser in either a room they don't access, or a large room with good air flow, making sure to not run it too long. Some animals are more susceptible to aspiration pneumonia (birds, for example). Do your research. Essential oil diffusers can be a safe, nontoxic air freshener around pets if used thoughtfully.
Truly, I could do an entire post on essential oil diffusers, and probably will at some point. Ok I definitely will as this is getting lengthy. But in the meantime, I'll share a few of my favorite diffusers AND my favorite essential oil company.
My favorite Essential Oil Diffusers:
Favorite Essential Oil Company:
Back to candles. ARE there any safe, nontoxic candles out there?
Throughout this journey to finding nontoxic air fresheners, I never stopped missing my candles. There's just something about the glow, the warm and cozy feeling a candle invokes. Luckily battery-powered candles have come a LONG way. I have them scattered all over the house, and when they come on every evening it just makes me smile. Such an intimate, cozy feeling having candlelight around you (in case you're wondering, Simplux are my favorite electric candles).
But I'm happy to say that I now have a few real candles in my stash, as candle-making methods and ingredients have come a long way in the past 10 years. Can we say they're truly safe? Here applies the happy medium. Any time you're burning something, you're breathing in emissions of some sort. So even those that are "clean-burning candles" are still affecting the quality of air. But there are definitely candles out there that have a safer wax base (usually soy, coconut or beeswax), use unbleached, non-metal based wicks, and are scented with essential oils and safer synthetic perfume oils. That's probably as safe as you can get in the candle department, and as I don't burn them constantly (moderation!), I'm ok with it.
That said, I still use my electric candles for whole-house ambience, but now I usually have a real candle in a strategic spot or 2 for fragrance (basically 1 in the greatroom and 1 at my desk). I don't burn them all the time like I did back in the day…I still rely heavily on my essential oil diffusers for nontoxic air freshening and fragrance (and health benefits!). But I've found my happy medium when it comes to candles.
A few things to keep in mind when burning wax candles:
Make sure the wax is pure soy, coconut or beeswax, or a combination of those. No paraffin. Not all companies divulge the full ingredient scoop on their labels, so MAKE SURE it says 100% soy/coconut/beeswax/etc. They'll even get tricky and call it a "soy candle" when in fact it's a blend of soy and paraffin. If it doesn't specify, check their website or contact the company to get the deets (yes I've done it).
Be wary of terms like "all natural" and "organic". Just because it's natural and/or organic, doesn't mean those ingredients are safe. "Organic" paraffin is still paraffin and anything but natural.
For scent, look for naturally derived essential oils or phthalate-free fragrance/perfume oils that are described as being nontoxic (again, if they don't tell, ask).
Check the wick…you're looking for 100% unbleached cotton or wood, and no metal.
TRIM YOUR WICKS. Keep those babies low, so you don't get smoking and soot. Personally I love a wick trimmer as it trims them to the perfect length (I don't know how many times I pinched a wick off too low…); key for multi-wick candles so that they all burn evenly.
Burn your candles in a well-ventilated area.
Burn container candles until the entire surface pools…that way you don't get a wax tunnel going, which can cause smoking (not to mention wasting a bunch of the wax).
And here's a few of my favorite clean-burning, non toxic candles:
Deodorizing vs Fragrancing
So far we've mostly focused on fragrancing your home, and one of the reasons folks might want to scent their space is to mask other odors that are present (pets, cooking odors, etc.). I'm all about actually removing the bad odor, so let's cover some safe ways to do that.
How to Safely Deodorize Your Home and Car
Baking Soda: Most folks know about baking soda as a deodorizer, and it is a terrific and safe way to remove odors. Throw a box in the fridge, sprinkle on carpets, rugs and pet beds (let sit for a while and then vacuum up), pour into stinky cleats and sneakers, down into the garbage disposal along with some vinegar to get rid of any lingering odor causers…the list goes on. I might even have put a box in my teenage boy's room when it smelled like an old locker room.
Charcoal: I'm about to rock your world with this tip. But it involves a quick story, so buckle up.
Last year, we bought an almost-new, used car. As in it still had the new car smell (which I know is probably caused by some not great things, but it's still one of my favorite smells!). Flash forward a few months, and I had picked up a bunch of fresh bagels for an event, some of which were Everything Bagels. You know the ones…garlic, onion, poppy seed ones? Super yummy, but definitely odorific. We were traveling so I left them in the car overnight, and I tell you, it not only took away the new car smell, I couldn't get the Everything Bagel smell OUT. I tried everything…left the car wide open out in the sun, vacuumed, FoN cleaner where the box had sat on the rubber mat. I even took out the cabin air filter and swapped it! No dice.
Then I did some googling on deodorizing, and somebody somewhere mentioned putting some charcoal in an open bag so that it could absorb odors. I figured, what the hell? I'd already given up  of hope having new car smell, but I wanted the garlicy/oniony smell gone too. So I dumped a little bit of charcoal in a small, handled paper bag, and placed it in the back of my SUV. Y'all, I'm here to tell you that within 2 days, all of the funk was GONE, and NEW CAR SMELL WAS BACK! We've had her almost a year now, she's almost 3 years old, and I still have new car smell. It's the little things….
The point is, charcoal is absolutely fantastic at absorbing and removing odors. When my college boy moves home in the summer, know that there will definitely be a bag of charcoal hiding in his room to absorb all that is volleyball-boy ripeness.
Force of Nature Cleaner: You can read my full review of FoN here (includes discount codes!), but along with being a mean cleaner and disinfectant, it does a fantabulous job of deodorizing. Wiping down the inside of the fridge instantly removes odors, as does spraying down the base of the dishwasher or adding a cup to the bleach container on the washer to run a tub clean cycle. It also works on stinky sneakers/cleats, sports bags and pet beds. And it's all-natural and safe!
Gadgets that deodorize: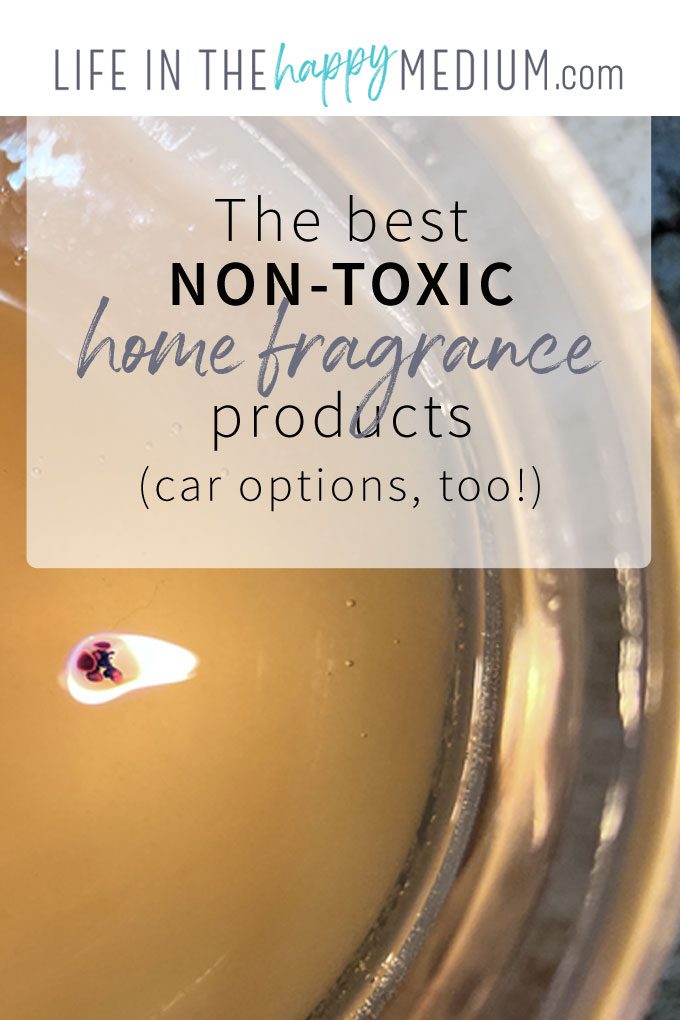 And I think that's a wrap! I hope this helps you discover ways to get your space smelling loverly. I'm always on the hunt for safe ways to fragrance our home, so if you come across any nontoxic air fresheners, nontoxic candles or deodorizers you love, please do share in the comments below (or shoot me a message)!
Psst…Credo carries several candle brands, and while I haven't tried any of them yet myself, you know they meet a high standard of CLEAN if Credo sells them. Let me know if you try any of them!
Tracey is the founder and writer of Life in the Happy Medium. She's also a freelance graphic designer, Mom to 2 teens, Wife, and Friend to a tribe she holds dear, who's prone to some fairly serious car singing and dancing much to her family's chagrin (old school R&B is where it's at!).
From cleaner beauty to healthy-ish eating, she's blogging here to share favorite finds that keep her happy in the middle.
Disclaimer: This page includes some affiliate links, and I will earn a commission if you purchase through these links. Please note that I've linked to these products purely because I recommend them and they are from companies and brands I trust and have tried myself. There is no additional cost to you.