Well hello there, friends. I'm back from a brief hiatus, and bringing you some Pura Vida vibes and a great ceviche recipe!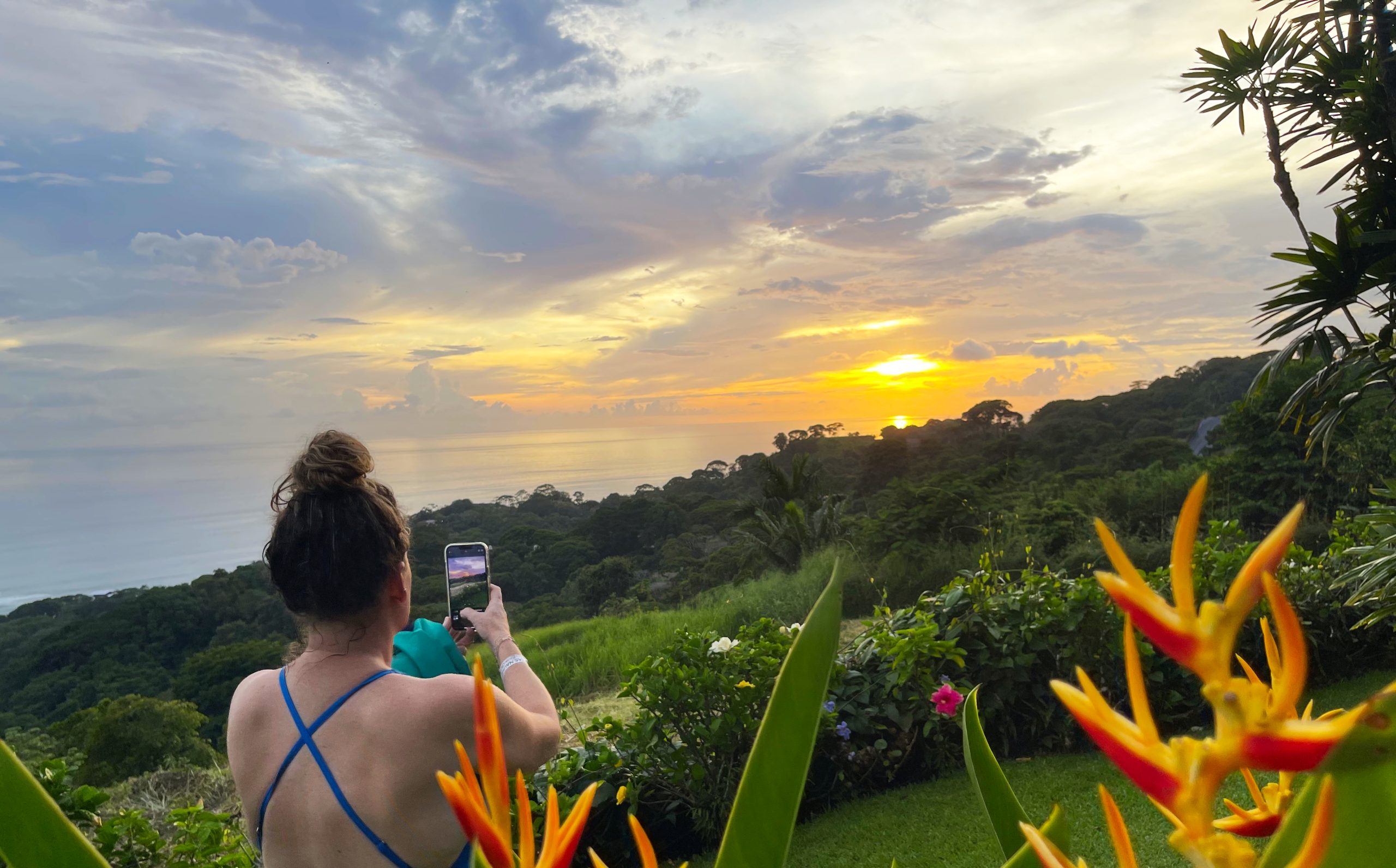 Anyone else find themselves needing to unplug recently? I found myself a bit overwhelmed towards the end of August…it was a big crazy summer for us, and then WHOOMP: the eldest back to college, the youngest back to high school a week earlier than usual, work super busy (no complaint there!), and the 'fun' things that can pop up unexpectedly as a homeowner, along with all of life's little things…I struggled to keep up with all of it.
When I was younger I would have plowed through and done EVERYTHING, staying up until the wee hours to do it, feeling like I had to do it so as to not let anyone down (including myself). But I have finally learned that during times of crazy, it's ok to let go of everything but the most important. I disengaged from ye olde social media and paused my blogging plan. Not the best thing to do in order to have a thriving blog, but living in the happy medium means figuring out balance, and my balance is happy and healthy family and friends, happy and healthy me, and doing my job well.
But I have missed the blogging (though maybe not the social media?? I'm having a hard time getting back into the pool…anyone else experienced this?), and am thrilled to share a new recipe with you!
Another one of the reasons I was away: the hubby and I were grateful to join his Dad, sibs and sibs-in-law on a trip to Costa Rica (during one of the nuttiest times of year for parents, first world problems I KNOW, but part of the crazy). While it involved some wild logistics (I have the best tribe…thank you again to my sis for holding down the fort for us!), Pura Vida living was good for the soul.
We LOVE us some CR. We also honeymooned there 23 years ago and went back for our 5-year anniversary, all 3 times to the Puntarenas province and all 3 times during the rainy season. Granted this was supposed to be the rainiest of the rainy season (September typically experiences the most rainfall), but other than the first day, we had gorgeous weather with rain/storms rolling in in the late afternoon/evening. Perfection.
Along with the best inexpensive cerveza (Imperiale!) and all of the fun tropical cocktails, we consumed a ridiculous amount of ceviche. Like it was our job, every day. So much so that when I came home we had withdrawals. Which meant it was time to revisit my ceviche recipe!
Making Ceviche – no heat necessary!
If you're not familiar, ceviche is a refreshing, healthy, flavorful dish created by cooking fresh raw fish in lime juice. And yes, the fish IS cooked. The citric acid in the lime juice denatures the proteins in the fish much the same as traditional cooking/heating would. This is a great article about how it works and how to buy and store your fresh fish.
There were many things that were different from our previous trips to Costa Rica, and one of those was the variety of ceviche styles we came across. While many still serve the typical ceviche recipe (fish, lime juice, jalapeño, onion, cilantro), we saw the addition of things like red bell peppers, tomatoes, mangoes, pineapple, and the most brilliant…coconut milk!
I basically took our favorite new things and tweaked my traditional ceviche recipe, and I must say it's quite delish. The addition of coconut milk is fabulous not only for flavor, but it allows for leftovers if you happen to make too big a batch! Usually the lime juice would continue to cook the fish and leftovers would turn to mush. But the coconut milk slows down that process, and we were able to enjoy it for one more day.
If you're not a coconut milk fan, it really doesn't make it coconutty per say, just lends a bit of creaminess that tempers the acidity of the lime juice a smidge. That said, if it's not your jam, just leave it out!
Choosing the right fish for your ceviche recipe
The texture of the fish is very important to a good Ceviche:
When buying your fish, you want FRESH, flaky, firm white fish, preferably from the ocean.
Fresh being key, go into your market with an open mind…whatever is in season is what you want. Great options are mahi mahi (my favorite), snapper, cod, sea bass or grouper.
If you have to go with freshwater, grab a tilapia.
Get it same day, or if a day ahead make sure you store it on ice in your fridge.
Making the ceviche
Couldn't be easier! While your fish is marinating in the lime juice, you can chop up everything else (minus the coconut milk), mix it up and let the flavors begin to meld. Strain off half to 2/3 of the lime juice, add in the coconut milk and the rest of the ingredients. Mix it up, salt and pepper to taste, and you're good to go!
While most places, even in Costa Rica, serve with tortilla chips (another of the changes) we still prefer it with saltine crackers…you do you! Goes great with a grapefruit margarita, just sayin'….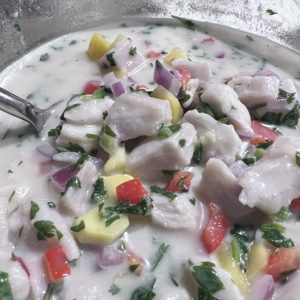 Let me know how you like it, and if you play with other ingredients I'd love to hear about any yummy combos!
And if you're interested in travel to the Puntarenas region of Costa Rica, I'd be happy to share scoop on our travels. We're mostly familiar with Dominical, Quepos, Manual Antonio and Jaco. And if your flights get you in late or leaving early, we have a great hotel to stay at in San Jose, the Buena Vista! While the area around it has changed a LOT (it used to sit in a hill covered only in coffee plants), the hotel is still lovely, it's a short distance from the airport, and yet you're overlooking and out of the city.
¡Pura vida!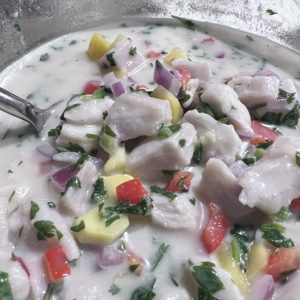 "Put the Lime in the Coconut" Costa Rican Ceviche
Ingredients
1

lb

fresh, firm white fish (skin removed)

Saltwater fish like mahi mahi, snapper, cod, sea bass or grouper

1

C

fresh lime juice

1

large mango, chopped

1

red bell pepper, chopped

1/4

C

red onion, minced

1

jalapeño, seeded and diced

adjust to heat preference

1

bunch

cilantro, chopped

salt & pepper

to taste

1/2

C

coconut milk
Instructions
Cut the fish into small pieces, about 1/2" each

Mix the fish gently with the lime juice, cover with plastic wrap (or lid) and refrigerate for 30 minutes, giving it a stir halfway through to make sure all pieces get thoroughly cooked.

While fish is cooking, mix together the mango, bell pepper, onion, jalapeño and cilantro. Salt and pepper to taste, set aside.

Once the fish is ready, strain off 1/2-2/3 of the lime juice and discard (to taste). Add in the coconut milk and gently stir to combine.

Carefully fold in the mango mixture.

Salt and pepper to taste, serve with Saltines or tortilla chips. ¡Provecho!
Tracey is the founder and writer of Life in the Happy Medium. She's also a freelance graphic designer, Mom to 2 teens, Wife, and Friend to a tribe she holds dear, who's prone to some fairly serious car singing and dancing much to her family's chagrin (old school R&B is where it's at!).
From cleaner beauty to healthy-ish eating, she's blogging here to share favorite finds that keep her happy in the middle.
Disclaimer: This page includes some affiliate links, and I will earn a commission if you purchase through these links. Please note that I've linked to these products purely because I recommend them and they are from companies and brands I trust and have tried myself. There is no additional cost to you.