Here's a super refreshing clean cocktail that will use up some of the summer herbs that are taking over your garden right now. This will quickly become your new favorite summer gin cocktail!

Before I introduce you to my new favorite summer cocktail, I'd like to introduce you to the perfect drinking glass. Yes, perfect.
I used to purchase my glassware based solely on its looks. The funkier the better. Then I had kids (and a husband), and durability became a huge factor in the glass-buying process. But I also had a mom-in-law who really took notice of how a cup or glass felt in your hand, and how that affected the drinking experience, be it iced tea, coffee or a cocktail. She didn't like a glass that was too heavy (which meant she was not a fan of my beloved mexican chunky blown glass drinkware that I'd bought in a little town in Baja), or too wide. And I began to take notice of these things too, and started to pay more attention to what I was drinking out of whenever we went out.
When we were in Spain a few years ago, I fell in love with what I would come to know as a bodega style glass that all of the the restaurants there seemed to have. Nice and light, the perfect width, easy sipping and beautiful in its simplicity. I came home and promptly began searching for my own set of these perfect glasses, and have loved them ever since.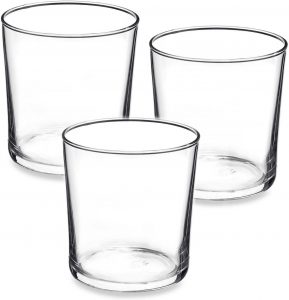 In addition to the weight, width, sipping experience and classic good looks, these glasses are damn near unbreakable. They're tempered glass, and that coupled with what I think is probably a feat of engineering, they have literally bounced on my wood floors with nary a crack. And believe me, in my house that happens alot! I also love that they're flat-bottomed, which means no puddles of water on the glass after they've gone through the dishwasher.
I'm not saying these glasses will make your drinks taste better (though they kinda do), but they do up your sipping experience. Great for casual everyday use but because of its clean design they work beautifully on a fancy table too. Everyone falls in love with them, and I've gifted a set several times because of it (they make a great wedding or housewarming gift)! I have and love the 17 oz. Maxi (on sale right now!) and the 12 oz. Medium.
Ok on to your new favorite summer gin cocktail!
I've become a bit of a Gin girl the past few years. I love a good G&T and any type of gin sour (Army Navy's = yum). The refreshing zing that you get from the botanical profile of gin just adds something to a drink that I'm really digging (more about gin in this post).
This easy gin cocktail recipe does include a lavender simple syrup, but if you don't have time to make it or buy it, it's still a great tasting cocktail using regular simple syrup, orgeat or agave syrup.
Lavender Simple Syrup is so good and so easy to make.
If you haven't made your own simple syrup before it really is the easiest thing. The basic recipe is simply this: one cup of sugar to one cup of water, simmer until sugar is fully dissolved. That's it! When flavoring a simple syrup, you add whatever it is (in this case, lavender sprigs) to the simmer once the sugar is dissolved, simmer for a bit, then turn off the heat and let it infuse while cooling. Then strain and use!
Lavender simple syrup is great in cocktails, lemonade, iced tea and coffee. Yes coffee! I love a lavender latte…even better if you add the lavender simple syrup to your milk before you steam it.
A quick tip about lavender…make sure to snip your sprigs in the morning (before 10 am). Lavender loses its oil in the heat of the day, so if you clip them early your flowers will be much more fragrant. Which works out great because you can make your lavender simple syrup in the morning, starting off the day inhaling its lovely calming scent, and your syrup will be cooled, fragrant and ready by the time cocktail hour comes around!
Get our your muddler
Once you have your lavender simple syrup ready to go, let's get to mixing this easy summer gin cocktail! Just like a mojito, you're going to muddle your herbs, in this case basil and mint, in your rocks glass (muddling releases the tasty oils in the leaves).  Then add a bit of fresh lemon juice, the lavender simple syrup and 2 shots of gin. Give it a good stir, add your ice and top with sparkling water (I love me some Topo Chico). Side note: another reason I adore those glasses? Flat bottom makes for easy muddling!
Making for a crowd
If you're making this Summer Herb Gin Smash for a group, just multiply everything out and pre-mix the lemon juice, lavender simple syrup and gin in a decanter/pitcher. You can either pre-muddle the herbs and have them sitting in prepared glasses, or display the herbs and let folks do their own muddling. Add a large bottle of sparkling water for topping off, and you're ready to party!
Feel free to try other herb combinations! You can also use vodka instead of gin: it's tasty and refreshing, but I will say the botanical flavors of gin just go so well with the lavender and herbs. Let me know if you try this summer gin cocktail and how you like it!
Summer Herb Smash
A super refreshing gin cocktail that will use up some of the summer herbs that are taking over your garden right now!
Ingredients
Lavender Simple Syrup
1

cup

sugar

1

cup

water

5-8

sprigs

fresh lavender
Summer Herb Smash
5

leaves

fresh mint

5

leaves

fresh sweet basil

2

oz.

gin

1/2

oz.

fresh squeezed lemon juice

1/2-3/4

oz.

lavender simple syrup

to taste

splash

sparkling water

to taste
Instructions
Making the Lavender Simple Syrup:
Bring water and sugar to a simmer on medium heat, stir until sugar is dissolved.

Turn heat to medium-low and add the lavender sprigs; simmer for 1-4 minutes (depending on how strong you'd like the lavender flavor).

Turn the heat off. Let the syrup steep for at least 30 minutes, but for stronger flavor allow to steep until completely cool.

Once steeping is done, strain the simple syrup through a fine mesh strainer into a glass jar. If not completely cool, allow to cool before using or putting in the fridge.
Making the drink:
Place the basil and mint in a rocks glass, and using a muddler (or the end of a wooden spoon), crush the leaves to release the basil and mint oils.

Add the lemon juice, 1/2 oz. of lavender simple syrup and the gin; stir to combine (if you like a sweeter drink add in the additional 1/4 oz. of lavender simple syrup).

Fill glass with ice, and top off with sparkling water. Garnish with lavender sprig and/or lemon wedge. Enjoy!
Tracey is the founder and writer of Life in the Happy Medium. She's also a freelance graphic designer, Mom to 2 teens, Wife, and Friend to a tribe she holds dear, who's prone to some fairly serious car singing and dancing much to her family's chagrin (old school R&B is where it's at!).
From cleaner beauty to healthy-ish eating, she's blogging here to share favorite finds that keep her happy in the middle.
Disclaimer: This page includes some affiliate links, and I will earn a commission if you purchase through these links. Please note that I've linked to these products purely because I recommend them and they are from companies and brands I trust and have tried myself. There is no additional cost to you.