With back-to-school right around the corner, it's time to bring back quick and easy weeknight meals! Not only is this sheet pan chicken recipe super simple to make, it's a one pot  (well, one pan) recipe, making it a quick and easy cleanup as well.
I'm missing my summer BBQ nights already! Having a high schooler that plays a fall sport means we're in back-to-school mode beginning August 1 (insert sad  face). While I'm not yet ready to break out ye olde crockpot (it's still summer!!), I'm ALL about a sheet pan dinner. The whole meal, one sheet, pop it in the oven and sit down with a glass of wine after a crazy day while it all cooks itself, then quick and easy cleanup. Yes please.
Valerie Bertinelli made this recipe on the Today Show a couple of years ago, and it's been in our meal rotation ever since. Her recipes are all fairly simple with ingredients you already have on hand, but also really flavorful. And she definitely cooks with family in mind…I dig her easy vibe when it comes to cooking.
Valerie's sheet pan vinegar chicken recipe calls for skin-on/bone-in chicken breasts (yes, skin on…keeps the breasts moist and tender…you can always remove after roasting!), sliced onions, Castelvetrano olives (more on these in a bit), cherry tomatoes, fresh rosemary, fresh garlic, olive oil, sherry vinegar, salt, pepper and paprika. That's it!
Over time I've played with a few modifications of this recipe, but nothing more than some minor tweaks were needed. It really is a great one. And it smells DELISH when it's baking! You'd think roasting with vinegar would be pungent, but somehow the combination of ingredients creates a truly yum aroma…my husband always gets happy when he walks in and smells this cooking.
This sheet pan vinegar chicken recipe takes just moments to put together. Just slice up your onion and toss it on the sheet pan with a bit of olive oil. Then place your chicken (I typically like a combo of chicken breasts and thighs or drumsticks, but sometimes just do breasts…leftovers make a great chicken salad) on top of the onions; sprinkle chicken with a bunch of paprika and a bit of salt and pepper, and pop it all in the oven for 15 minutes. While that's cooking, combine your tomatoes, olives, chopped fresh rosemary and minced garlic in a bowl with olive oil and a bit of salt and pepper. After the 15 minutes, add the tomato mixture around the chicken, and back in the oven it goes for another 10-15 minutes. Et voilà!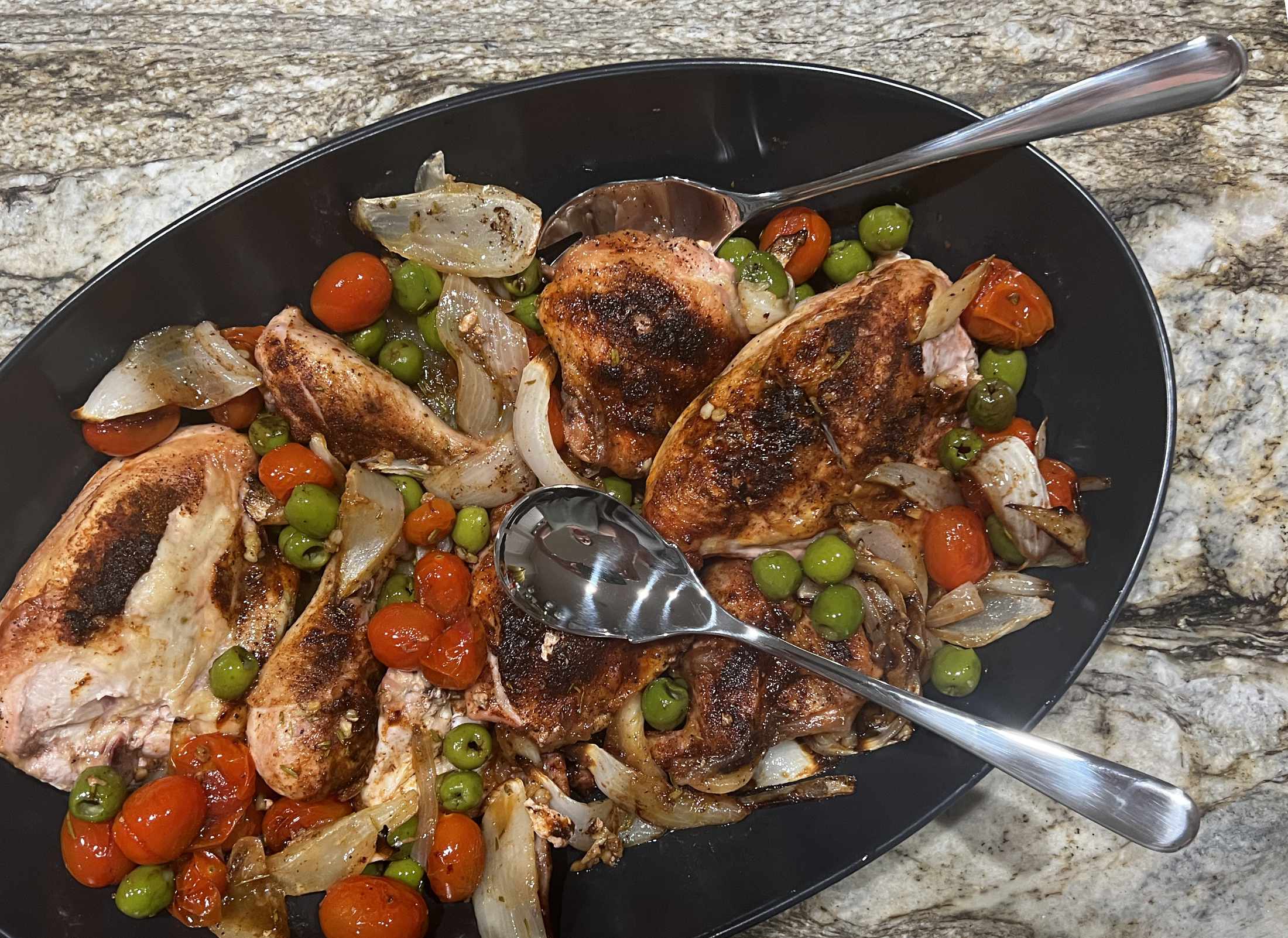 The original recipe calls for sherry vinegar, which is great if you have it on hand. If not, red wine vinegar is just fine, white wine vinegar works too. I've even used balsamic, but only if you have additional chicken on the pan and/or more tomatoes to create more juices as otherwise the balsamic caramelizes too fast and can burn.
I recommend sweet paprika for this recipe, but smoked gives a terrific flavor too…in fact smoked paprika combined with balsamic vinegar is a wonderful combination. And you can use dried rosemary, but if you have fresh please use it…definitely makes a big difference in flavor!
Now for the olives. I hadn't knowingly had Castelvetrano olives prior to this recipe, and they've become my favorite olive! Great nutty flavor, just a subtle tanginess…so yummy. However I've also made this recipe with all different kinds of olives as sometimes the Castelvetrano aren't available. In fact it's awesome with kalamata olives (pairs great with the balsamic!)…just leave off the salt in the tomato/olive mixture since they're already very salty.
Oh…that serving dish is supes cool you say? I agree. It's the Oval Low Serving Bowl from Year & Day, a lovely eco-conscious company that creates beautiful, durable tableware with sustainability AND usability in mind. Not only are their ceramics dishwasher safe, they're also oven friendly. I would of course normally serve right out of the pan on your average night, but we had a few last minute additional eaters over so I made a second batch; I did a quick reheat on the first batch in the serving bowl, and it was perfection, especially when paired with the Y&D serving set! The bowl/dish is a great size…works equally well for baking casseroles or serving nice big salads or pasta dishes, family style.
But what I most love is their outdoor collection…we love eating outside, and can't have glass/ceramic around the pool. The terracotta look of Canyon is totally my jam. Best part is that they're plastic-free! Made from natural, plant-based materials, they look great while being super durable (and even microwave-safe!!!).
I hope you love this recipe! I typically serve it with some crusty bread to sop up all of the yummy juices, but it's also great with rice or pasta. If we're low-carbing I serve it over a bed of spinach. Comment below with any questions. Enjoy!
Easy Sheet Pan Vinegar Chicken with Roasted Olives
This recipe is so easy to throw together on a weeknight, and it's crowd/family pleaser! The burst of tomatoes takes you back to summer, and the Castelvetrano olives balance the tanginess of the sherry vinegar. So good!
Adapted from
Valerie's fab recipe
.
Ingredients
1

yellow or vidalia onion

cut into 1 inch wedges

2

chicken breasts, bone-in/skin-on

4

chicken thighs, bone-in/skin-on

2

tbsp

olive oil, divided

¾

tsp

paprika (sweet or smoked, your preference)

or more to taste

½

c

sherry vinegar

or any wine vinegar

1

pint

cherry tomatoes

mixed, grape, etc. all work

¾

c

pitted Castelvetrano olives

2-3

cloves

garlic, minced

1½

tsp

fresh rosemary, roughly chopped

kosher salt and freshly ground black pepper

to taste
Instructions
Preheat the oven to 450℉.

Toss the onion pieces with 1 T of the olive oil on a large, rimmed baking sheet.

Arrange the chicken on top of the onions and brush some of the olive oil from the pan onto the tops of the chicken. Sprinkle them with the paprika and salt and pepper.

Drizzle the vinegar onto the pan then roast in the oven on the middle rack for 15 minutes.

Meanwhile, toss the tomatoes, olives, garlic and rosemary with the remaining tablespoon of olive oil and a big pinch of salt.

After the 15 minutes, add the tomato/olive mixture around the chicken and continue to roast until the chicken is golden brown and cooked through, 10-15 minutes more.

Serve the chicken with the vegetables and juices from the baking sheet.
Tracey is the founder and writer of Life in the Happy Medium. She's also a freelance graphic designer, Mom to 2 teens, Wife, and Friend to a tribe she holds dear, who's prone to some fairly serious car singing and dancing much to her family's chagrin (old school R&B is where it's at!).
From cleaner beauty to healthy-ish eating, she's blogging here to share favorite finds that keep her happy in the middle.
Disclaimer: This page includes some affiliate links, and I will earn a commission if you purchase through these links. Please note that I've linked to these products purely because I recommend them and they are from companies and brands I trust and have tried myself. There is no additional cost to you.