Gather around, peeps. I'm really excited to share this recipe. I've been working on it for several months now (tough job for sure, but someone had to step up), and I'm really proud of the final result. These Salted Tahini Chocolate Chip Cookies have been described as 'heavenly' by many testers. Just sayin'. A healthier take on the traditional chocolate chip cookie, but with all the flavor, texture and chocolate one requires. And did I mention they're vegan?!

I don't know about your Instagram feed, but starting around the holidays mine was CONSTANTLY showing me images and videos of giant, thick, gooey chocolate chip cookies from bakeries I don't even follow (namely Levain and Seven Grams Caffe). I do love me a really good chocolate chip cookie (these Jacques Torres chocolate chip cookies are my favorite traditional recipe), but how did IG know that?! The reels of monstrous mounds of chocolatey goodness were causing a serious craving.
While I've been to and enjoyed Levain up in DC, I haven't been to Seven Grams (NYC). And while you can order their cookies online and have them shipped, I was loathe to pay close to $50 for 6 cookies. I was intrigued by their use of olive oil (and tahini) in their cookies: in an effort to find alternatives to butter-based recipes and recreate goodies we enjoyed in Spain, my daughter and I baked several different olive oil cake recipes last year, and I really fell in love with the flavor and density that EVOO brings to baked goods. And since I had a big jar of leftover tahini from making some homemade hummus, I thought, why not try and make my own tahini chocolate chip cookies? (It took several more jars of tahini to finalize this recipe, but oh was it worth it!)
Why tahini?
Speaking of tahini, if you're not familiar with this staple of Mediterranean cuisine, I'll give you the quick lowdown: tahini is a paste/butter made from toasted and ground sesame seeds. The texture of tahini is very smooth and creamy, but has a very distinct smoky (sometimes a bit bitter) flavor. It's used frequently in dips and salad dressings, and as mentioned it's a key ingredient in hummus. But tahini is also really tasty in baked goods (the first time I tried it this way was in this Chocolate Chip Tahini Cake…so good!). It really lends a great depth to sweets, and pairs particularly well with chocolate. Tahini is very nutritious, and a great alternative to add to your other oils/butters/fats in your cooking and baking.
A few things about this Tahini Chocolate Chip Cookie recipe
It was REALLY tricky to nail this recipe. Getting a cookie with a nice high dome (without using eggs) proved to be quite the challenge. And I was determined to use almond flour in the recipe…I knew from all of the experimentation with my Ted Lasso Biscuits with the Boss recipe that using it makes for such a great texture in 'buttery' cookies. I was surprised to find that the Seven Grams cookies don't include a nut flour, just regular unbleached flour (along with sugar, tahini, extra virgin olive oil, vegan dark chocolate, oat milk, cornstarch, sea salt, vanilla, baking powder and baking soda).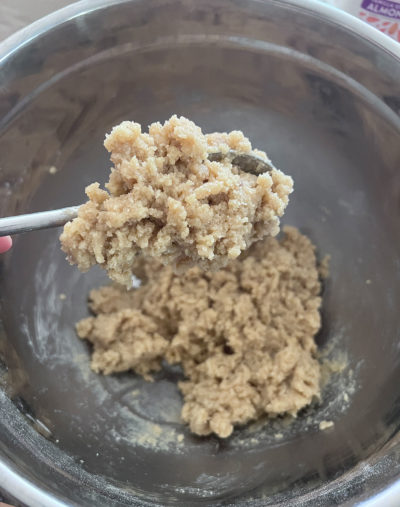 Leave your mixer in the pantry
No need for Helga (or whatever you've named your stand mixer. Oh wait…not everyone does that?). In fact these tahini chocolate chip cookies come out better when they're hand mixed. No need for creaming, etc.
This is a thick, 'dry' dough
You're going to roughly form the dough into 2 1/2″ balls, and the key to them staying nice and high after baking is 1, fridge time before baking and 2, the dough being thick and dry (it's oily from the EVOO, but otherwise it's pretty dang dry).
On average you'll need 3 tablespoons of the almond milk in your tahini chocolate chip cookie batter, but if your climate is on the dry side OR your tahini is on the thicker side, you might need more. The tahini I used most recently was pretty runny, so 3 tablespoons was perfect, but I've had a really thick tahini and needed 6 tablespoons of the almond milk (both were Wegman's Organic Tahini…pretty wild how each batch can vary!). Start with the 3 tablespoons, and if it's just too dry and not coming together, add 1 additional tablespoon at time until the consistency is right.
It's also an oily dough
Because of that, you'll find that your chocolate chips/chunks don't like to stick in the dough. In fact you'll probably end up with some stranded chocolate chips in your mixing bowl after you've formed your balls, and that's ok – just tuck those into the tops of the balls. It actually works out well as it gives the flaky sea salt something to grab onto when you sprinkle your tahini chocolate chip cookies hot out of the oven!
Don't bake them too long
The edges of these should be just set, the top still looking a bit gooey and not-quite-done. They'll firm up some in cooling, and trust me that you want these with a bit of an underbaked texture (remember, there's no eggs in this recipe, so no worries about anything being undercooked).
You're also going to want to exercise patience with the cooling. These chocolate chip tahini cookies are best when fully cool. I know, it sucks to wait. I can't make you wait, and it's not like they're not yummy warm. But the magic happens when they're cool (in fact they're even better the 2nd day, but I know it's cruel to ask you to wait that long).
A few other random tips on flavor
Vanilla – Any vanilla will do, but I'm a huge fan of Mexican vanilla in baked goods…it has a very different flavor from the more traditional Madagascar or Tahitian vanilla, and works really well with the smokiness of the tahini.
EVOO – olive oil flavors can vary greatly, some being quite spicy, so just know what you're working with as it will definitely effect the taste of the end result. This one is great for baking.
Chocolate chips/chunks – I love DARK chocolate, but semisweet also works well here. And if you use vegan chocolate chips, you have a vegan chocolate chip cookie recipe!
Almond milk – Regular or vanilla, unsweetened (I always have Wegman's Organic on hand as my kids love it). I haven't tried it myself, but I'm sure you could substitute with any other nut milk.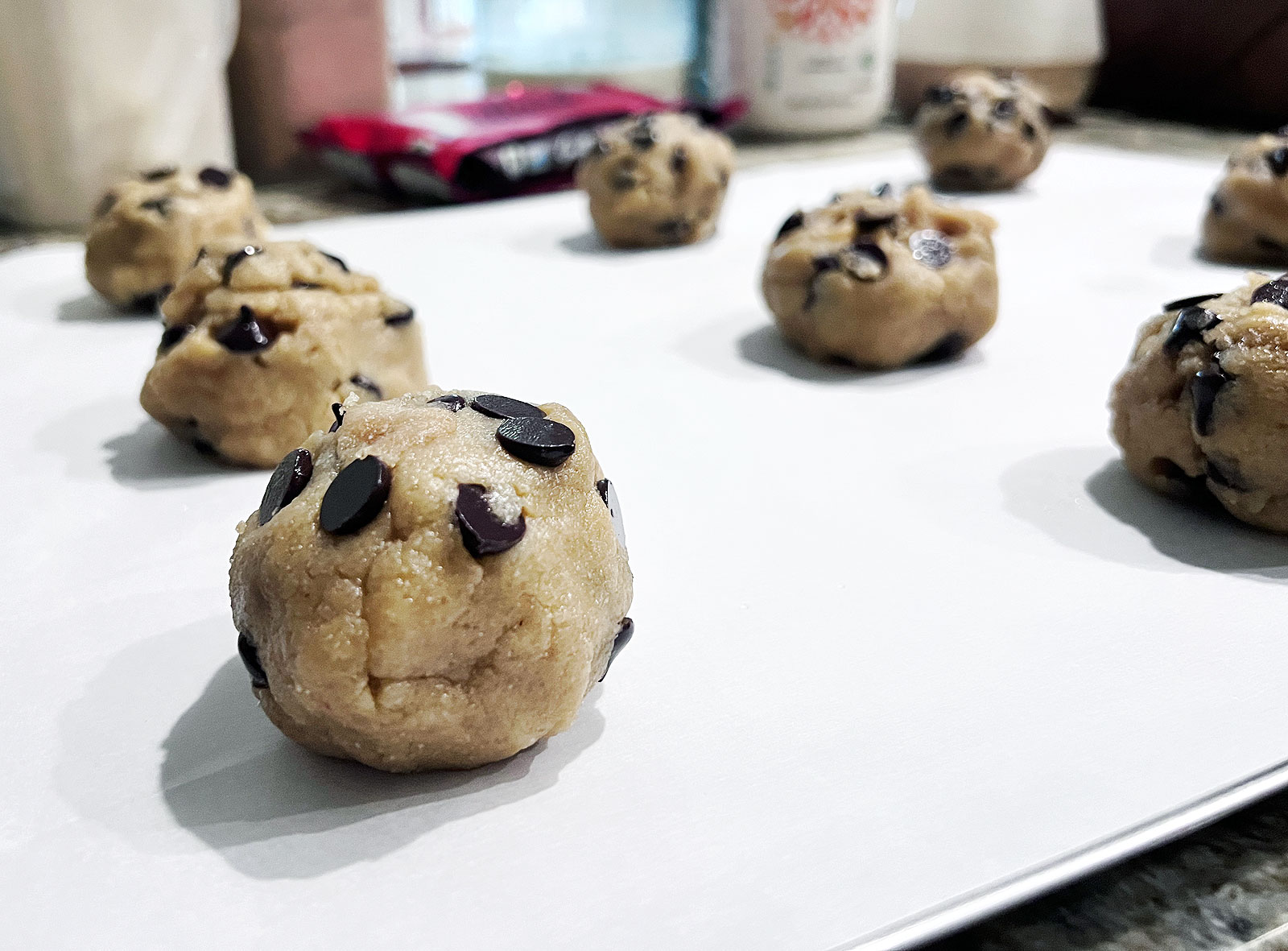 I sure hope you love these as much as we do! If it were up to my daughter these would be top-secret, not-to-be-shared (teenagers are stingy), but they're just too good not to. Make sure and comment below if you make them, or post on Instagram and tag me (@lifeinthehappymedium)! And of course let me know if you have any questions. Enjoy!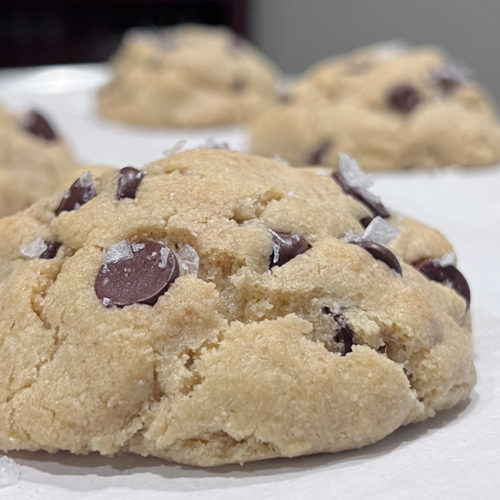 Tahini Chocolate Chip Cookies (vegan!)
These Salted Tahini Chocolate Chip Cookies have been described as 'heavenly' by many testers. Just sayin'. A healthier take on the traditional chocolate chip cookie, but with all the flavor, texture and chocolate one requires. And did I mention they're vegan?!
Ingredients
1

cup

all-purpose flour

1

cup

almond flour

lightly packed

2

teaspoons

cornstarch

1 ½

teaspoons

baking powder

1/2

teaspoon

baking soda

1/2

cup

packed brown sugar

1/3

cup

granulated sugar

2

teaspoons

vanilla extract

1/2

cup

tahini

well-mixed

1/4

cup

extra virgin olive oil

3-5

Tablespoons

almond milk*

unsweetened

3/4

cup

semisweet or dark chocolate chips

pinch

salt

flaky sea salt

for sprinkling
Instructions
Preheat oven to 350℉. Line a cookie sheet with parchment paper.

In a medium mixing bowl, whisk together the flours, cornstarch, baking powder, baking soda and salt until combined.  Set aside.

Using a separate bowl, mix the olive oil and tahini together until smooth.

Add in the vanilla and 3 tablespoons of almond milk, and stir until completely incorporated.

Now add in the sugars, mixing until fully combined and smooth.

Pour the wet mixture into the dry, and stir together until just combined. If the batter seems to dry, add in one tablespoon of the almond milk at a time until you get the right consistency (though the batter should be pretty thick so it will hold together as a ball).

Fold in the chocolate chips until they are evenly distributed.

Scoop out and form balls that are about 2 1/2-inches in diameter.  Put them on the baking sheet at least 3" apart.

Place the cookie dough balls in the in the fridge for 20 minutes.

Bake for about 12-14** minutes, or until the edges are set and the tops of the cookies are very lightly golden, center still soft (the centers may look slightly undercooked).

After removing from the oven, place the cookie sheet on a cooling rack and sprinkle each cookie with a pinch of flaky sea salt. Let them cool on the baking sheet for about 5 minutes.

Using a spatula transfer the cookies to the wire rack to finish cooling (about 20 minutes or until the bottoms of the cookies feel firm).
Notes
* The consistency of tahini can vary greatly, and will determine how much additional moisture you need in this dough. On average you'll need 3 tablespoons of almond milk, but if you're tahini is thick (or climate particularly dry), you may find that you need a bit more moisture. If needed, add 1 additional tablespoon of almond milk at time until the consistency is right, but keeping in mind you're shooting for a drier dough. Basically you just need it damp enough that all of the flour is just incorporated.
**Thicker cookie sheets, like my favorite Airbakes, will require closer to 14 min.
Tracey is the founder and writer of Life in the Happy Medium. She's also a freelance graphic designer, Mom to 2 teens, Wife, and Friend to a tribe she holds dear, who's prone to some fairly serious car singing and dancing much to her family's chagrin (old school R&B is where it's at!).
From cleaner beauty to healthy-ish eating, she's blogging here to share favorite finds that keep her happy in the middle.
Disclaimer: This page includes some affiliate links, and I will earn a commission if you purchase through these links. Please note that I've linked to these products purely because I recommend them and they are from companies and brands I trust and have tried myself. There is no additional cost to you.