If you too found yourself wanting a bite of Ted Lasso's buttery, chewy, "eff me"-inducing biscuits that he presents to Rebecca each morning, I've got you covered! After many months of testing, I'm happy to share what I think is the perfect Ted Lasso shortbread biscuit recipe.
No matter how you slice it (ha!), there ARE a few good things that have happened during the pandemic. Together time with family has definitely been a silver lining, and finding shows we can all watch together has been fun (in the beginning of it all, my daughter and I snuggled up for Gilmore Girls, so good!). I didn't immediately jump on the Ted Lasso train…I'd figured it would be over-the-top silly like the SNL character, which isn't my cup of tea (or as Ted says, "hot brown water"). But once I finally watched, I was hooked right at the first episode. It wasn't at all what I expected, and you can't help but love you some Ted (and many of the other characters).
Of course another thing that we've done a lot of over the past few years is cook and bake. My daughter and I have binged the various cooking shows, and we've also come across foods in books or other shows that we wanted to try, and so we tried them! In fact I'll be posting several recipes we've discovered along the way, but these little buttery treats had to be the first.
About Ted Lasso
If you're not an Apple+ subscriber, or you are and for some crazy reason haven't yet watched the show, Ted Lasso (played by Jason Sudeikis) is an American football coach hired to coach an English soccer team by its new owner, the recently-divorced-from-the-previous-owner Rebecca Welton (played by Hannah Waddingham). I don't want to give too much away for those that haven't yet watched, so I'll just say that Ted starts bringing cookies (biscuits, for Brits) to Rebecca every morning as a way to get to know each other, dubbing it "Biscuits with the Boss". Initially it was tortuous for Rebecca, but the biscuits were apparently so damn good that she couldn't help herself. And she made it look like it was the best thing she'd ever tasted, so of course my daughter and I decided we had to make them. Thus began the hunt for a shortbread biscuit recipe that looked like Ted's biscuits.
Now before you ask, yes, our teenage daughter watches the show. But I have my Apple remote at the ready, and we fast-forward past any, uh, sexy parts. The language…look, she's heard it all and probably worse on the bus. We've had plenty of conversations about the whens, whys and whats of cursing. The show offers so much to viewers, especially right now. It tackles things like mental health and divorce, but provides us with a character this is so refreshing…he sees the good in people, and tackles life in a constant glass-3/4-full manner. Not to mention the show is freaking funny (Roy is a hoot…also the source of most of the bad words). So for us, the good outweighs the eff-bombs. Happy medium.
About those biscuits
Ted's biscuits are basically Scottish shortbread cookies. You've seen the tartan-covered tins of Walkers shortbread before, right? But what was intriguing to me was that the biscuits Rebecca was eating didn't seem super crunchy…there was a definite softness to them (and somehow I just can't imagine someone saying "F### me" for a crunchy cookie?!). And since soft chewy cookies are my JAM, I just had to find this magical shortbread biscuit recipe.
For a long time, the show didn't provide an "official" recipe, but many a recipe had begun to pop up on the interwebs. I scoured those, and I also went through my grandmother's old recipe box (as it happens, my Nana was a Scot…cheers, Clan Gunn!). Shortbread is really a simple recipe, but the ratio of ingredients can really vary from recipe to recipe. It all comes down to the texture you're wanting in your biscuit…crunchy, a bit soft, or full-on chewy. And so, the Ted Lasso biscuit test kitchen was born, and after many months of testing ingredients and ratios, I've developed what we feel is the perfect shortbread biscuit recipe: dense, buttery, soft and not too sweet.
Trust me when I say we tried ALL the combinations and ratios of each ingredient. Flour, butter and sugar are the foundation of any shortbread biscuit recipe, and it was just about finding the right amount of each. Some recipes even called for an egg, and while we did try it, I find it unnecessary (I do plan to try it with just a yolk, a la one of my Christmas cookie recipes). Here's a quick breakdown of the ingredients and all of the ways we combined them, including thoughts on what worked best and why:
Flour
Amount of flour ranged from 1 1/2 cups to 2 3/4 cups in the recipes we found. To get the softness we like, 2 cups was the sweet spot. However if you like a crunchier shortbread, go for 2 1/2 cups.
We used ALL all-purpose flour in our initial batches. And if you have any sort of nut allergy, it works just fine.
But we found a mixture of all-purpose and almond flours gave it the loveliest crumb, and upped the soft factor perfectly.
We tried all different ratios of all-purpose to almond flour. 1:3, 1:1…all made the texture too coarse/mealy. 3:1 is far and away the winner (1 1/2 cups of all-purpose to 1/2 cup almond flour). Absolutely perfect crumb and texture.
Yes, you can use gluten-free flour with great results.
Butter
The amount of butter in recipes didn't vary as much as the flour…most were 1 cup, and we found that with 2 cups of flour/s it was definitely the right amount.
Unsalted + salt or salted butter. We tried both, and ultimately the taste was just better using unsalted butter and adding in a bit of salt.
I've been trying to cut back on dairy, so part of our test kitchen was trying different fats to replace traditional butter. And look…nothing tastes better than Irish butter. So if you're good with it, get you some Kerrigold and go for it. We tried olive oil, which was good but not the texture or taste we were shooting for; ghee worked well if refrigerated first. Vegan butter is a toughie for me, as most contain a high amount of coconut oil, and that's loaded with saturated fat. But I finally came across Earth Balance's Soy Free Buttery Sticks, which contain non-GMO, non-hydrogenated oils and no coconut oil, and is fairly low in saturated fat. GREAT results!
Final vote: unsalted real butter (Irish, of course) or the Earth Balance Soy Free Butter Sticks.
Sugar
In the recipes we came across, the amount of sugar ranged from 1/2 to 1 1/2 cups. As I've made a lot of shortbread-type cookies over the years, I knew less was going to win the game. Shortbread isn't traditionally a super sweet cookie. It's all about finding that balance between the buttery and the sweet and the wee bit of saltiness.
Initial batches were with 1/2 cup, and while we did try and up the sugar a few times, it was clear that 1/2 cup of sugar is all that is needed in a batch. And in fact if you're using it as a base for a layer bar, you could drop it down to 1/3 cup.
Granulated Swerve works great as a sugar replacement.
The remaining ingredients in our shortbread biscuit recipe (vanilla, salt and zest) simply came down to taste preference:
Vanilla extract is not a traditional addition to shortbread, but like butter and bacon, it just makes everything better. It wasn't in our first batches, but once it was in it stayed in.
Salt amounts in the recipes we found varied from none to 1/4 tsp to 1/2 tsp. We found that 1/2 tsp balanced the 1/2 cup of sugar perfectly.
And finally, the zest. Absolutely not a traditional ingredient in shortbread. But when my friends and I had our crazy annual Christmas cookie baking day, I was reminded how good orange zest is in a buttery cookie. So we began adding it to our basically perfected recipe at that point, and yep, it definitely ups the shortbread game. Not necessary if you don't have an orange or lemon (preferably Meyer) on hand, but if you do it's definitely worth adding in.
Now let's bake these crazy good Boss Biscuits!
These shortbread biscuit cookies are absolutely one of the simplest things you'll ever bake. So whether you're a veteran baker or a complete newbie, this recipe is for you. It's almost impossible to screw up, and it's easily modified to dietary needs, taste preference and multiple uses.
Most recipes called for using a mixer, but I found that by using a food processor and getting a coarse sand texture vs a dough provided far better results in the texture department.
You're simply going to add the dry ingredients to the food processor and give it a full pulses to mix. Then add in the rest of your ingredients, and pulse until your mixture resembles coarse, wet sand.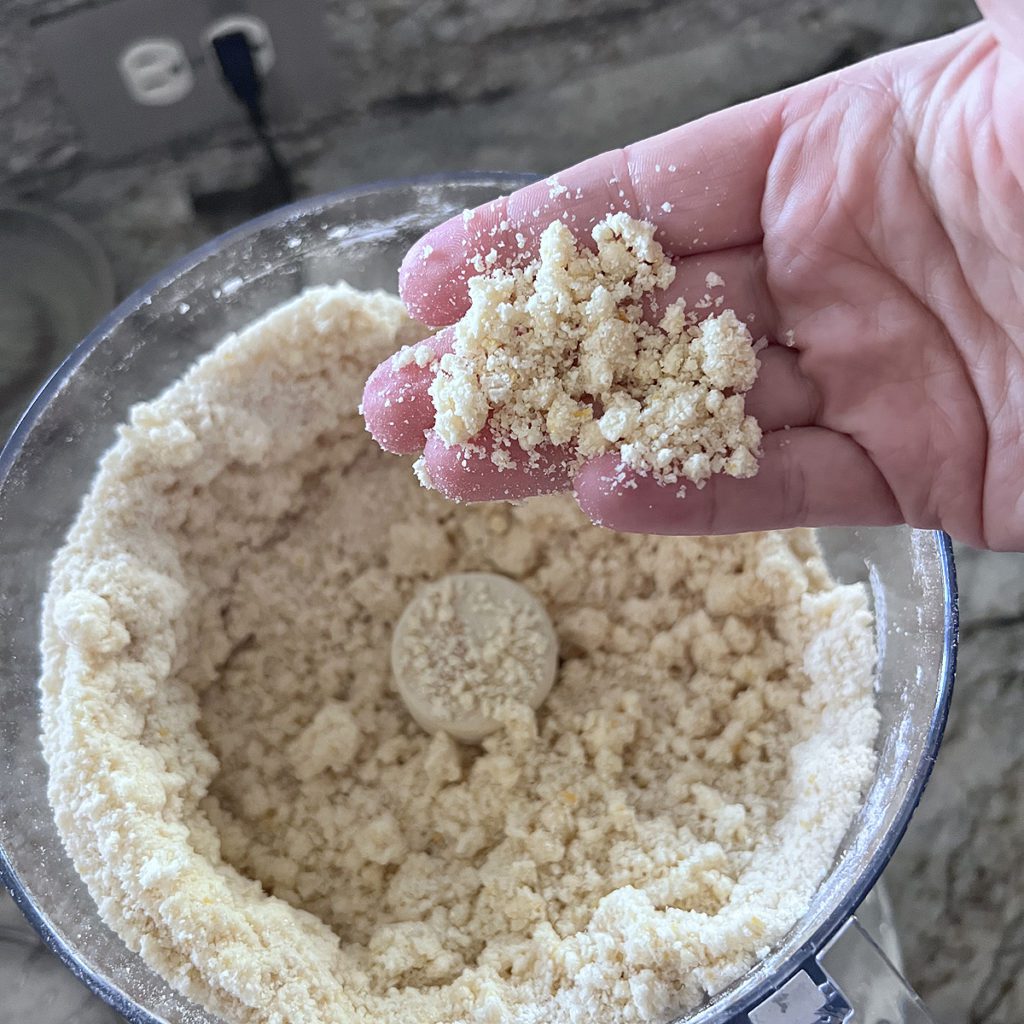 Then you just dump it all into your prepared baking dish, and pat, pat, pat til it's flat (any Bruno Mars fans??)! Really it's more of a firm, even press. You can do this with a spatula, but if you place some plastic wrap over the top, you have far better control using your hands (and the plastic keeps the dough from sticking to your fingers). Then you're going to want to take a fork and pork holes all over the surface (the butter will create steam, and the holes allow that steam to escape so that the biscuits don't puff up…we're not going for puffy biscuits here).
Finally, once you pull them out of the oven, let them cool for about 10 minutes on a cooling rack. Then using a sharp knife, cut into desired shape/size (squares are fine, I like the longer "fingers" like Ted's). Then here comes the ultimate patience challenge…you must ignore their sweet buttery smell and let them cool COMPLETELY before you remove them from the dish, else they will fall apart. Popping them in the fridge will speed things up.
And one last hot tip…I find these are best AFTER they've been in the fridge. It restructures the butter and firms them up just perfectly, while still being nice and soft. They don't need to be refrigerated, but I prefer them fridged.
That's it! Now just grab your coffee (or your "hot brown water"), and enjoy these crazy good boss biscuits! Comment below and let me know how you like them, and please share any modifications you try and love. This recipe is fun to play with. Cheers!
Ted Lasso's "Biscuits with the Boss" Recipe
These biscuits are a version of Scottish shortbread that are easy to make with ingredients you're sure to have on hand! There are a gazilion versions of shortbread recipes, but this is my tried and true. Eat as they are, or use as a base for bar or pie cookies! Best of course with coffee, or hot brown water ;).
Ingredients
1 1/2

C

all-purpose flour

1/2

C

almond flour

1

C

unsalted butter, vegan butter or ghee*

(2 sticks)

1/2

C

sugar

1/2

tsp

sea salt**

fine

1

tsp

vanilla

1

tsp

citrus zest (optional)

orange or meyer lemon
Instructions
Preheat the oven to 350°F.

Line a 9x9-inch glass baking dish with parchment paper OR spray with non-stick of choice OR butter the dish. Set aside.

Add the all-purpose flour, almond flour, sugar and salt to your food processor. Pulse to combine.

Add the cubed butter, vanilla and zest (if using) to the flour mixture. Pulse until it resembles coarse sand.

Pour the mixture into the baking dish. Using your hands, press the mixture firmly and evenly into the dish (food prep gloves or plastic wrap over top makes this easier!).

Using a fork, place holes all over the surface of the dough.

Bake for 30-35 minutes, until the edges are at least a bit golden (if you like a firmer biscuit, bake until the bottom is golden as well).

Remove from the oven and place the dish on a cooling rack.

Cool for 10 minutes, then using a very sharp knife, cut biscuits to desired shape/size (don't remove). Leave to cool completely before removing from the dish (fridge time can speed this up!).
Notes
*

If you're using ghee, make sure to refrigerate it ahead of time. I find it helpful to measure out the cups' worth and THEN refrigerate it.
**You can use salted butter for this recipe, just make sure to omit the additional salt. However I've found that unsalted butter works best.
Tracey is the founder and writer of Life in the Happy Medium. She's also a freelance graphic designer, Mom to 2 teens, Wife, and Friend to a tribe she holds dear, who's prone to some fairly serious car singing and dancing much to her family's chagrin (old school R&B is where it's at!).
From cleaner beauty to healthy-ish eating, she's blogging here to share favorite finds that keep her happy in the middle.
Disclaimer: This page includes some affiliate links, and I will earn a commission if you purchase through these links. Please note that I've linked to these products purely because I recommend them and they are from companies and brands I trust and have tried myself. There is no additional cost to you.