What better time to share one of my most requested cocktails than Cinco de Mayo? The Spicy Ruby Margarita is sooo delicious…refreshing with a kick! If you're looking to up your margarita game, this jalapeño-infused spicy grapefruit margarita is an absolute crowd pleaser.

I'm a big margarita fan. Especially when it's done right with fresh ingredients. In fact contrary to the gawdawful sweet-and-sour laden concoctions served too often, the original and true margarita is made with just tequila, orange liqueur and fresh lime juice. So it's kinda the OG of clean cocktails.
But as much as I love the original, I do like experimenting with different flavors in my margs. Inspired by a yummy cucumber jalapeño margarita (recipe to come) and a giant bag of ruby red grapefruits, I got to mixing, and this spicy grapefruit margarita was realized (and deemed "The Spicy Ruby").
My original recipe included orange liqueur, but I felt like it took away from the grapefruit flavor. So I then played with using a jalapeño simple syrup (you know I love to make a flavored simple syrup!). This worked pretty well, but it did require some lead time to cook the simple syrup and let it cool (changes the flavor of the jalapeños a bit too, and a bit harder to control the level of spiciness). Finally came the easiest method: infuse the tequila!
A bit about tequila
I won't go too deep into this spirit other than to cover the primary types of tequila you'll find: Blanco, Reposado and Añejo.
Blanco (aka White, Silver or Plata) – this style of tequila is the boldest of the bunch, and if you like the flavor of tequila it holds up the best in cocktails. It never lives in a wood barrel, so you'll get all of the purest flavors of the agave juice in this tequila.
Reposada (aka Aged) – Reposada tequila is aged for several months to a year in oak barrels. Basically just enough time to infuse a bit of flavor without totally removing the notes from the agave juice. A bit mellower than Blanco, but not as mellow as Añejo.
Añejo (aka Extra Aged) – tequilas aged for 1-3 years are considered Añejo. The extra time in the wood deepens the color and further mellows the intensity. Often considered a sipping tequila (there's also 'Extra' Añejo…usually pretty spendy).
The type of tequila you use in this margarita (or any other) is totally a matter of taste preference. It DEFINITELY affects the flavor of the drink. For this batch I used a blanco, but I do love it with a reposada. IMHO añejos are not great with 'ritas…however they ARE great in things like horchata, drinking chocolate and other non-citrus beverages.
Also, we're too old for cheap tequila. Doesn't have to be super spendy, but for the love, get you some decent tequila and save yourself a headache ('cause you'll be having more than 1!).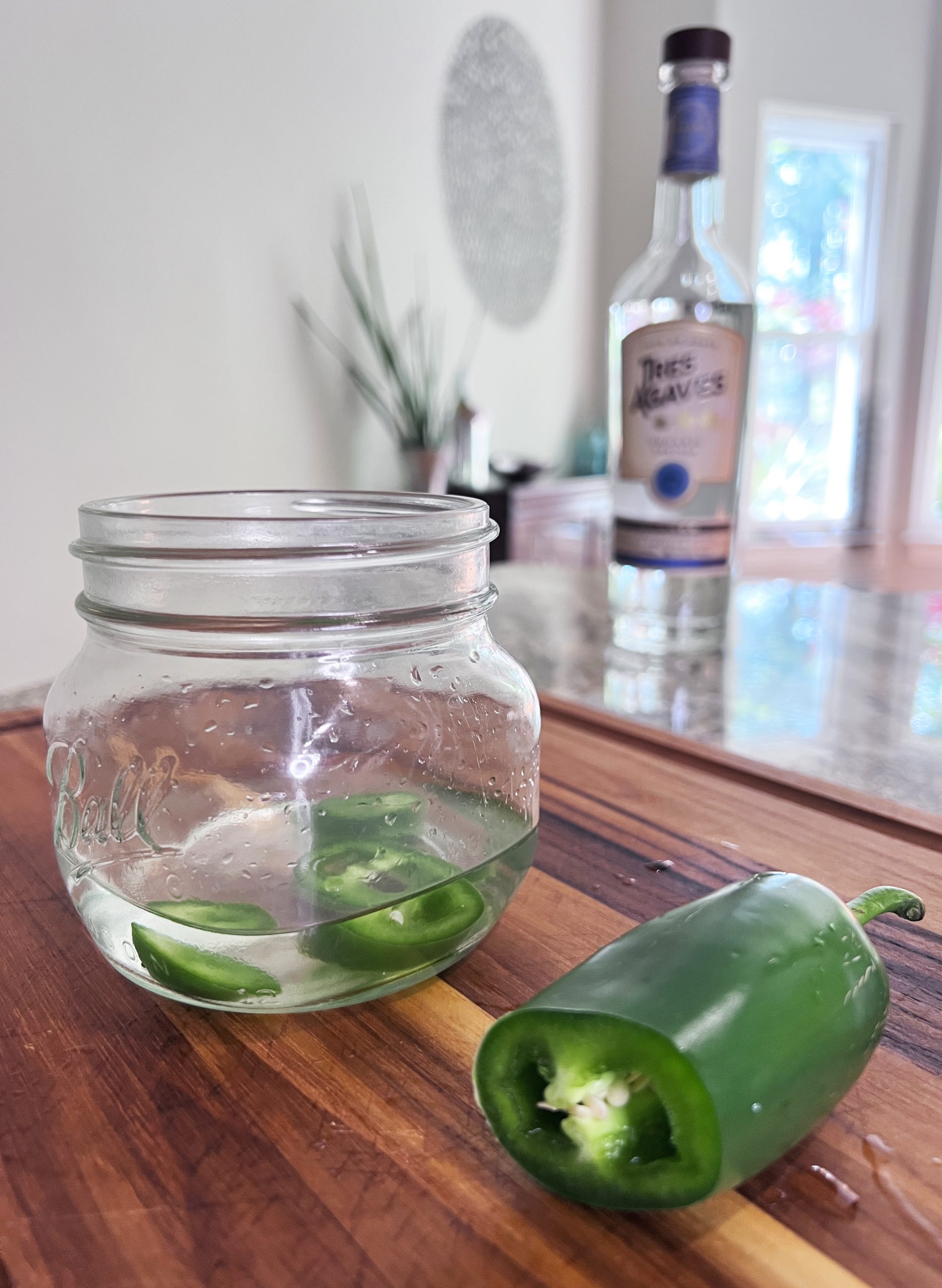 Infusing the tequila for this spicy grapefruit margarita
It sounds fancy, but couldn't be easier. You simply add jalapeno slices to the tequila and let it sit until it reaches the level of spiciness you like. If you've got a party to prep for, just slice up a whole jalapeño and add it to your bottle of tequila ahead of time.
For the purposes of this recipe (makes 2 spicy grapefruit margaritas), you place a couple of slices of jalapeno in 3 ounces of tequila, then let it sit for at least 30 minutes (you can go longer, just remember that the longer you go, the more spicy and flavored the tequila).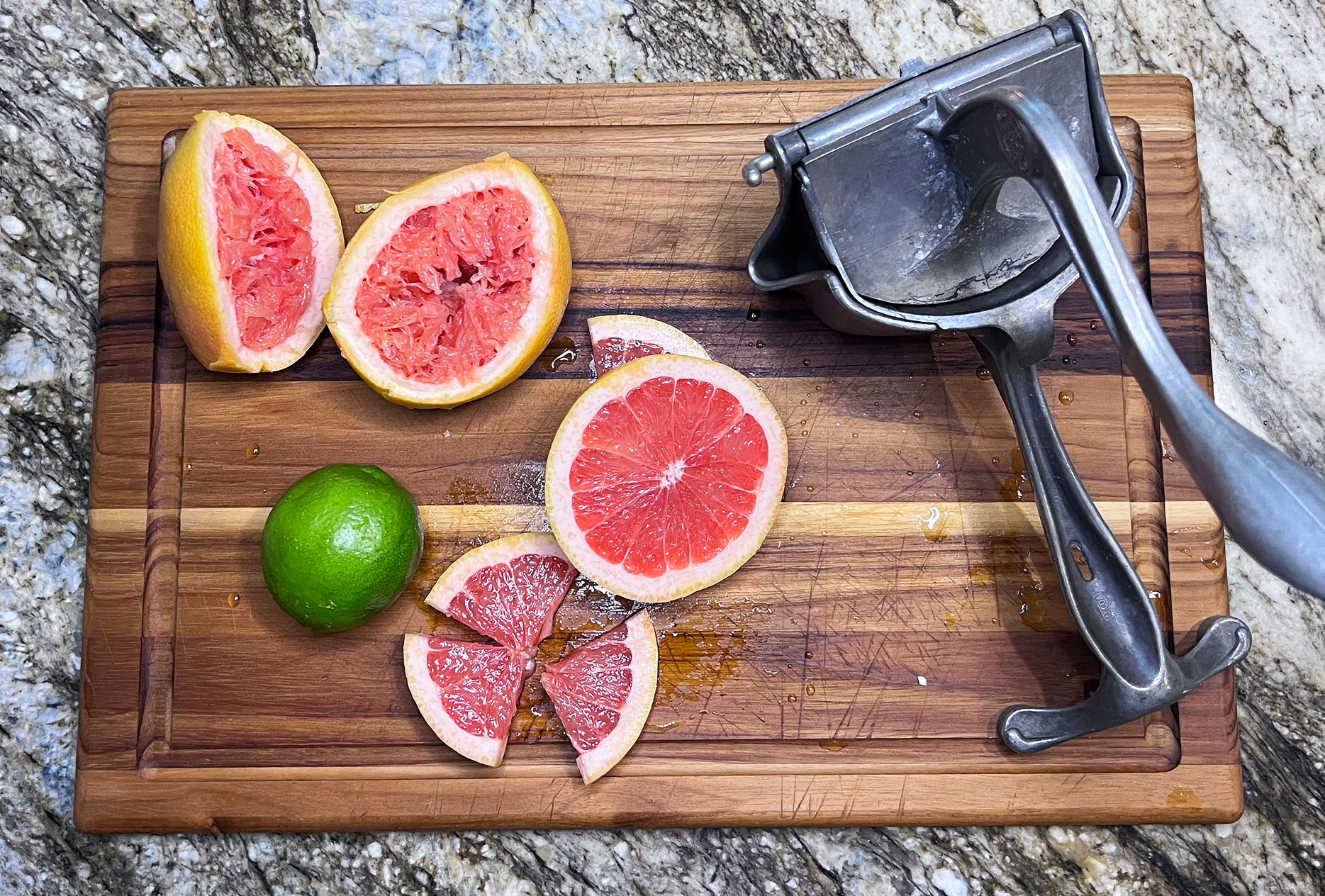 The secret to a magical margarita? Fresh squeezed juice!
Please do your taste buds a favor and squeeze yourself some fresh lime and grapefruit juices. It really makes a HUGE difference, not to mention keeps this a clean cocktail. If you're not convinced, do a side-by-side comparison using fresh vs. bottled juices (bottled lime juice in particular really changes the flavor of a drink…and it's no bueno). Though I will say one of our local groceries offers a few in-house fresh pressed juices, and that does come in handy when I'm serving a crowd and short on time (thank you, Wegmans!).
Why ruby red grapefruit? While still really tart, ruby reds are just a bit sweeter than traditional grapefruit, and have a bit more…something. Plus, I mean, the color. I like a pretty cocktail.
A little bit of sweet in a spicy grapefruit margarita
Traditional margs use an orange liqueur (Gran Marnier, Triple Sec, etc.) to add a bit of sweet to balance the lime juice. Since we're not using an orange liqueur here, a bit of agave syrup acts as the balance. Grapefruit tartness varies, so you may find you need a bit more or less agave syrup depending on how tart your juice is (and how tart you like your margarita). If you don't have agave syrup on hand, make a quick batch of simple syrup (equal part water and sugar, cook on medium heat and stir until sugar is dissolved, then cool). It's also REALLY delicious with a honey syrup (mix 2 parts honey to 1 part water over medium-low heat until simmering, remove from heat and allow to cool).
And speaking of sweet, while I do love these with a Tajin rim, when I make them on the tarter side I love a sweet and salty rim: just combine equal parts turbinado sugar and coarse sea salt.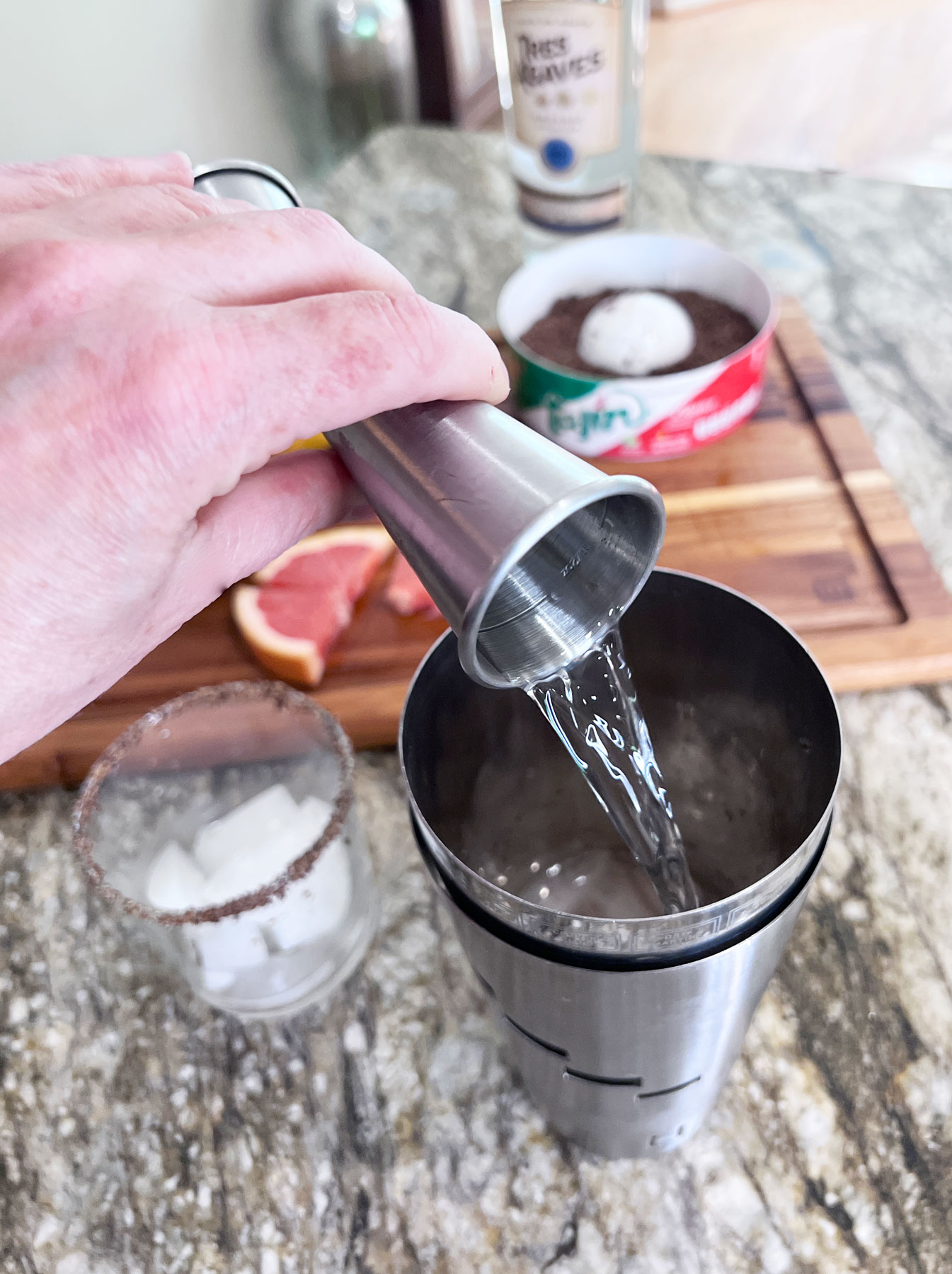 Making for a crowd
If you're making these spicy grapefruit margaritas for a group, just multiply everything out, put out a bowl of grapefruit and lime wedges, and extra jalapeños. I also like to offer a couple of rim options for these, so I'll typically have the Tajin out along with the sweet and salty combo. This spicy grapefruit margarita makes for the best Cinco de Mayo margarita station!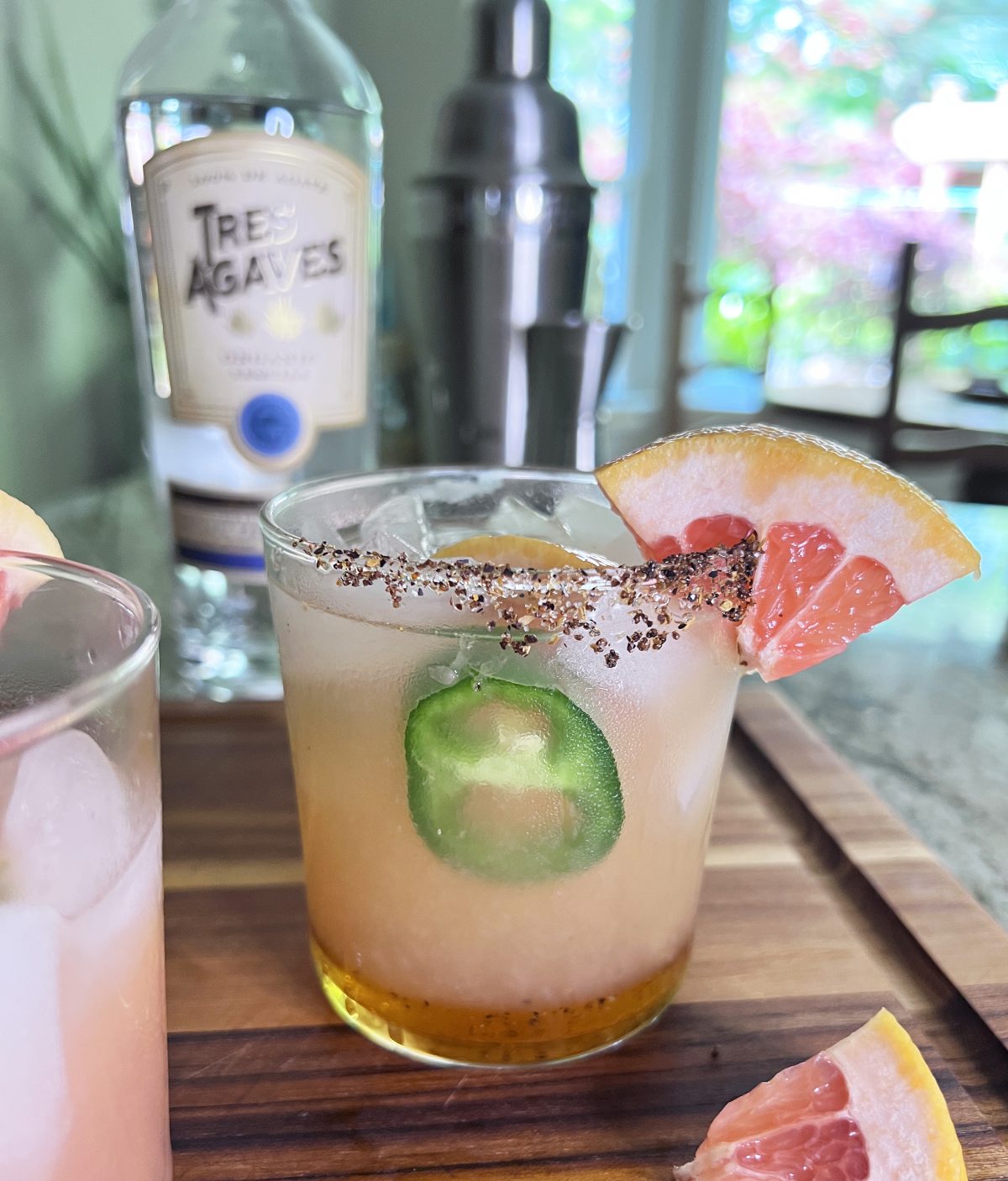 Happy Cinco de Mayo (or National Margarita Day, or really any day that's good for a 'rita!)! Comment below and let me know if you try the Spicy Ruby…the best spicy grapefruit margarita!
I've had a few emails about the jigger, shaker and juicer in the pics! The jigger is this one from Cocktail Kingdom (love their stuff!). The shaker I've had forever, but this one is very similar…when you're coming up with your own concoctions, the dial-a-drink function is great for reminding you of the basic ratios. And the juicer is straight up vintage…it was my grandmother's! Though you can definitely find them on ebay or in antique/vintage shops.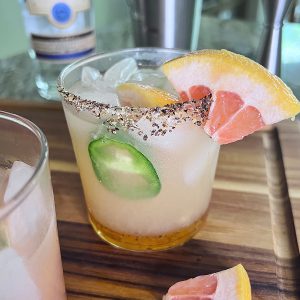 The Spicy Ruby Margarita
This jalapeño grapefruit margarita is a refreshing and spicy spin on the classic margarita.
Ingredients
3

oz.

tequila

4

oz.

ruby red grapefruit juice

freshly squeezed

2

oz.

lime juice

freshly squeezed

1-2*

oz.

light agave syrup

to taste

4

slices

jalapeño

ice
Garnish options
lime wedges

grapefruit slices

additional jalapeño slices

coarse sea salt, sea salt/sugar combo or Tajin

for rimming glass
Instructions
Add the tequila and jalapeño slices (seeds and all) to a glass jar. Set aside for 30 minutes (longer to get it spicier!).

Run a lime or grapefruit wedge around the rim of 2 glasses, then dip the rims into the sea salt, sea salt/sugar combo or Tajin. Add ice to the glasses.

Strain the jalapeño slices from the tequila and place 2 slices in each glass.

Place about a cup of ice in your cocktail shaker. Add tequila, grapefruit juice, lime juice and agave syrup. Shake it up!

Pour evenly into the 2 glasses, add a wedge or grapefruit or lime.
Notes
*The sweetness of the grapefruit juice can vary, so add the agave syrup to taste accordingly. You can also sub in simple syrup or honey syrup.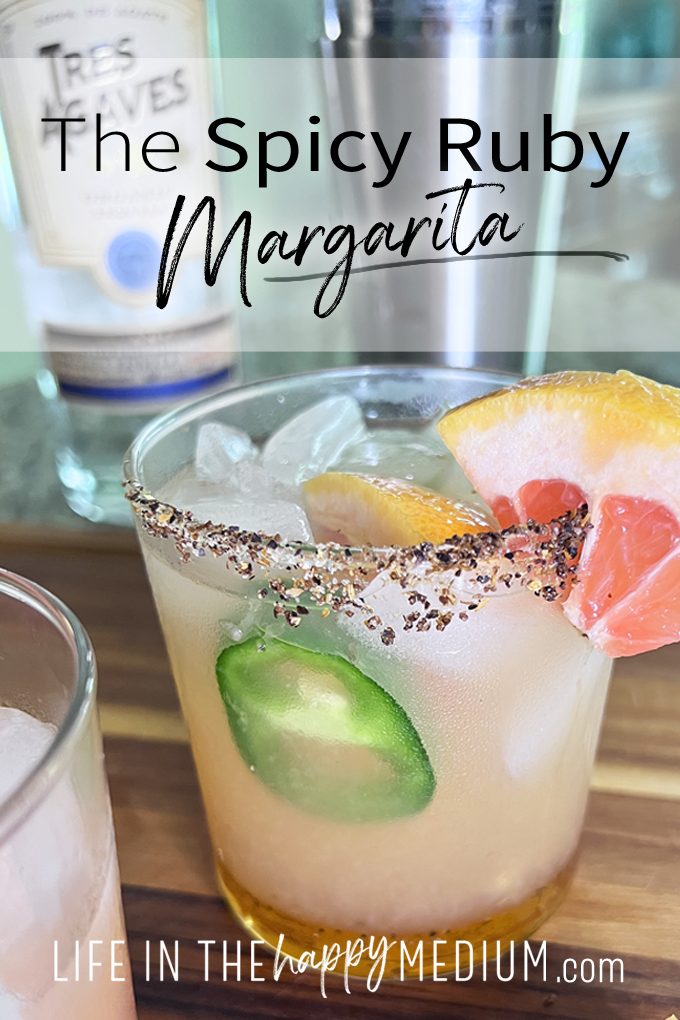 Tracey is the founder and writer of Life in the Happy Medium. She's also a freelance graphic designer, Mom to 2 teens, Wife, and Friend to a tribe she holds dear, who's prone to some fairly serious car singing and dancing much to her family's chagrin (old school R&B is where it's at!).
From cleaner beauty to healthy-ish eating, she's blogging here to share favorite finds that keep her happy in the middle.
Disclaimer: This page includes some affiliate links, and I will earn a commission if you purchase through these links. Please note that I've linked to these products purely because I recommend them and they are from companies and brands I trust and have tried myself. There is no additional cost to you.