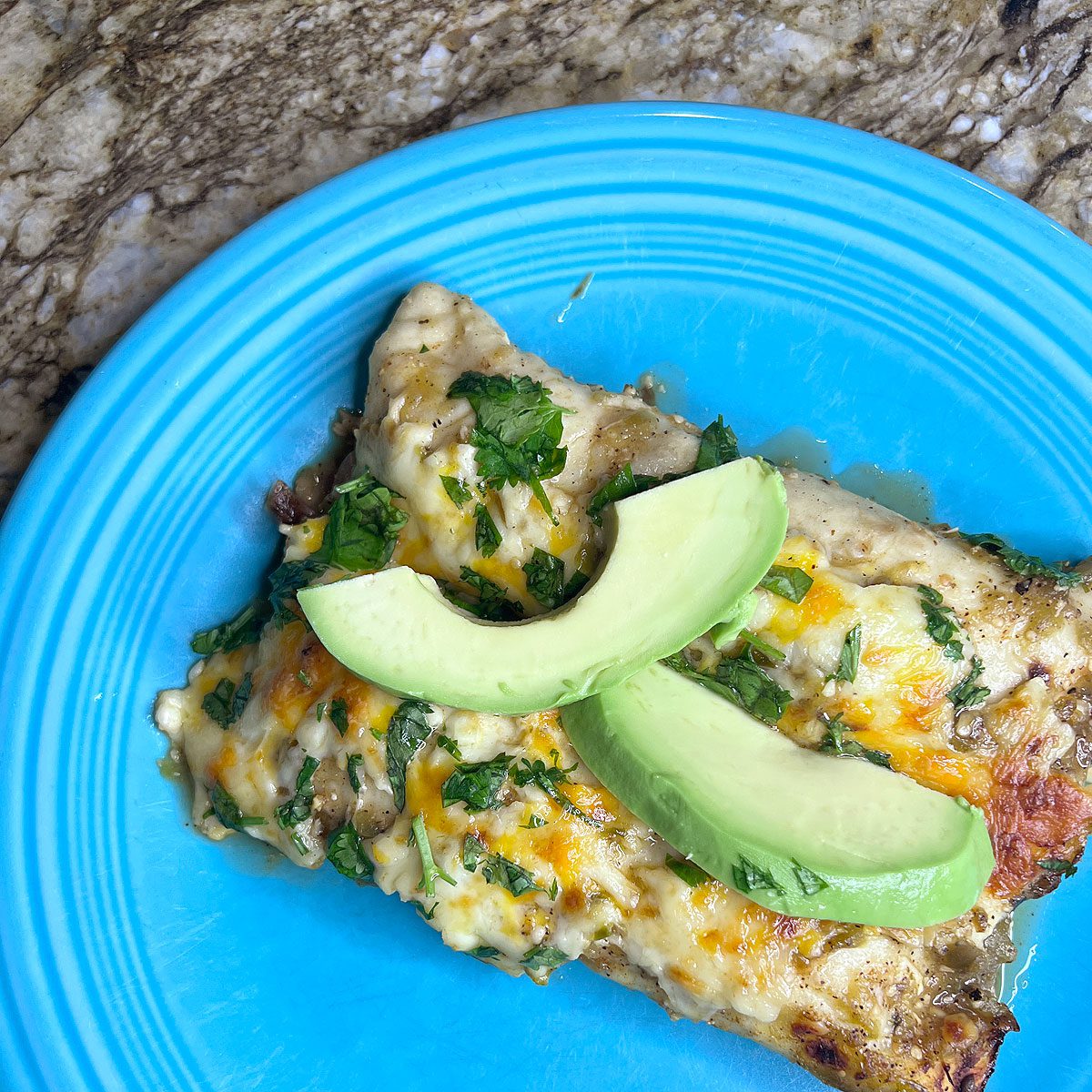 These chicken enchiladas are one of my family's favorite meals (and I've got a picky eater…the husband, not the kids!). This recipe took about a decade or so to evolve, and I've been making them this way for about another decade. Tried and true, and takes the standard chicken enchiladas recipe to next-level good!
Growing up in southern California with a Mom that grew up in AZ, enchiladas were in the regular dinner rotation at home, and an easy pick as a kid when we'd go out to eat at our favorite Mexican restaurant. My mom made her chicken enchiladas casserole-style (layered/stacked), but I find the process of rolling the enchiladas up a bit meditative. Put on some good music, sip a freshly made margarita, get into a nice workflow of filling and rolling and all seems alright with the world.
I usually time my chicken enchilada making around having an extra stash of chicken for one reason or another. Whether rotisserie chickens were on sale, I made chicken for another recipe and made extra (purposely or not), or my freezer stash needs thinning. I'm a big fan of shredding (or picking if it's a rotisserie) cooked leftover chicken and freezing it for later…easy to grab and use for enchiladas, white chicken chili, taco night, pasta dishes, etc.
This chicken enchiladas recipe combines flavors from places that make up my foundation: the lime and honey combination is definitely something I associate with California cuisine, and the Hatch chile from New Mexico, where I went to college and developed a deep and eternal love for all things green chile. Man do I missed being able to order a pizza with hatch green chile on it….
Vegetarian Options
This recipe is easily modified to be vegetarian enchiladas. My mom-in-law (vegetarian) loved when I filled her enchiladas with leftover foil-packet potatoes (sliced potatoes with olive oil, spices and onions, cooked in a foil packet on the grill). I also love using big slices of avocado for the filling. Sub either of these (or any other veggie) for the chicken in this recipe (for potatoes, just make sure they're precooked).
Flour vs Corn tortillas
This comes down to personal preference, and you'll get no argument from me either way. Sometimes it's whatever we already have on hand, or whichever way my taste buds are swinging that day. I will say that if you're making these ahead of time, be it in the morning to bake later that night or the next day or for freezing, corn is a better bet as flour tortillas get soggy much quicker.
Whichever way you go, I do recommend toasting the tortillas prior to rolling…just a quick 30 seconds or so on each side in a hot skillet is perfect. Helps with the sog factor. You can definitely add some oil and fry them a bit, but not necessary.
Shredded Chicken
There's a ton of flavor in the marinade, so you don't need to be fancy about how you get your shredded chicken. The easiest method is to add your chicken breasts to a pot of salted water, bring it to a boil then simmer for about 20 minutes (I like to add a glug of olive oil to the pot too). A little more hands-on method is to brown them quickly on both sides in a bit of oil, then add a cup of chicken broth, cover and cook for about 20 minutes or so until easily shreddable. Shred with 2 forks, or for a quick and hands-off alternative you can pop them in your mixer with the paddle attachment at low speed (works brilliantly!).
Other types of meat
You can certainly sub in shredded pork or beef for this recipe. In fact I've used leftover shredded flank steak from an extra large batch of my Southwestern Beef Stew and it's pretty damn amazing (always love a steak and lime combo).
Serving up your chicken enchiladas
In the warmer months I love to serve my chicken enchiladas with a simple green salad (dressed with just a little lemon juice, olive oil and seasonings), when it's cooler and we're in comfort food mode, homemade beans or black beans and rice. Hearty enough to serve on their own as well! And I must say, leftovers are even better…all of those flavors really meld and some kind of magic happens….
From my family to yours, I hope you love them! Be sure and comment below with any questions, and be sure and let me know if you try them!
–
The black clay Chamba pot shown in the background above has been getting some inquiries! It's FANTASTIC for cooking beans and stews, and will have its own post soon. In the meantime you can get one here.
Hatch Honey Lime Chicken Enchiladas
The yummiest chicken enchiladas you'll ever have! A bit of sweet combined with the tart and the spicy, and the unique smoky flavor of hatch green chile make these a crowd favorite. Easy to make ahead and bake later, freeze great, and a fabulous way to use up any chicken in your freezer or leftover rotisserie chicken!
Ingredients
1 1/2-2

lbs.

chicken breast

shredded

1

onion

chopped

1

cup

hatch green chile

chopped

2

cloves

garlic

minced

2

T

olive or avocado oil

2

cups

salsa verde

jarred or homemade

10

tortillas

small/taco size

2

cups

pepper jack cheese

shredded (sub with Monterey if you'd like it less spicy)

2

cups

colby jack cheese

shredded

1/4-1/2

cup

cilantro

roughly chopped, to taste
Honey Lime Marinade
1/3

cup

honey

1/2

cup

fresh lime juice

1

T

chili powder

1

tsp

garlic powder

1/2

tsp

sweet paprika

1/2

tsp

cumin

1/2

tsp

sea salt

1/4

tsp

black pepper

1/4-1/2

tsp

ground chipotle
Garnish (optional)
sour cream or crema mexicana

avocado

sliced
Instructions
In a large bowl (or gallon-sized freezer bag), whisk together the lime juice and the honey until the honey is completely dissolved. Add in all of the spices and whisk well.

Add in the shredded chicken, and toss to combine. Cover and marinate for at least 30 minutes.

Sauté the chopped onion in the oil over medium heat until translucent.

While waiting on the onion, heat up a non-stick or cast iron skillet (medium). Lightly toast your tortillas on both sides (when you see it bubble up, flip it!) and set aside in a stack.

Once the onions are translucent, add in the chopped green chile. Saute for a few minutes until the the chiles are heated through and onion slightly starting to brown.

Add in the minced garlic, and sauté quickly until fragrant and well combined (less than a minute).

Preheat the oven to 350℉.

Spread 1/3 cup of the salsa verde evenly over the bottom of the baking dish.

Remove the chicken from the marinade and add it to the onion and green chile mixture (I like to do this with tongs), leaving the excess marinade in the bowl. Toss until well combined.

Add the remaining salsa verde to the marinade; whisk together and set aside.

Combine 2 cups of the pepper jack with 1 cup of the colby jack and set aside.

Now it's time for assembly! Fill each tortilla evenly with the chicken/onion/chile mixture, along with some of the cheese mixture. Roll up and place in the baking dish seam side down. Don't be afraid to squeeze them in tight!

Once you've filled your dish, pour the salsa verde/marinade mixture over the top of them all. Sprinkle the remaining cheese.

Bake uncovered for 30-35 minutes, until the cheese is melted and the sauce is bubbling all around. Then pop under the broiler for a few minutes if you'd like to brown up the cheese a bit (optional).

Once it's out of the oven, sprinkle with the cilantro. Let cool for 10 minutes, then dig in!
Notes
VEGETARIAN OPTIONS
This makes fantastic avocado or potato enchiladas! Bake time the same for each. For potatoes, I'd recommend cooking them ahead of time (boiled or microwaved), cutting into 1" cubes (or again, a great way to use up leftover skillet/foil/baked potatoes!).
MAKE AHEAD
Since the bake time is short, these Hatch Honey Lime Enchiladas are perfect for making ahead and popping into the oven when you get home.
Make-ahead enchiladas and refrigerate:
Prepare as stated, cover tightly with plastic wrap and refrigerate for up to 24 hours.
Same baking instructions, but increase time by 10-15 minutes.
Make-ahead enchiladas and freeze:
Prepare as stated up through pouring the remaining marinade/salsa verde on top (don't add the remaining cheeses).
When ready to bake, preheat the oven to 375

℉. A

dd the 1 cup of shredded colby jack and 1 cup of pepper jack to the top. Cover with foil, bake for 40 minutes. Remove the foil and bake another 10 or until everything is nice and bubbly.If you defrost in the fridge first, follow the baking instructions above for the refrigerated option.
Tracey is the founder and writer of Life in the Happy Medium. She's also a freelance graphic designer, Mom to 2 teens, Wife, and Friend to a tribe she holds dear, who's prone to some fairly serious car singing and dancing much to her family's chagrin (old school R&B is where it's at!).
From cleaner beauty to healthy-ish eating, she's blogging here to share favorite finds that keep her happy in the middle.
Disclaimer: This page includes some affiliate links, and I will earn a commission if you purchase through these links. Please note that I've linked to these products purely because I recommend them and they are from companies and brands I trust and have tried myself. There is no additional cost to you.