While it feels like it's all about pumpkin this time of year, Fall to me is APPLE time. Give me an apple cider caramel cookie (all-time family favorite that we've been making every Fall for years…so bad, but so good!!!), some apple butter on sourdough or a lovely red sangria full of sliced apples, and I'm a happy gal. My people love apples for snacking (preferably with peanut butter), and we always have some on hand. Sometimes we overbuy, which means an 'oh-crap, I need to use this apple ASAP' moment, and that's how this recipe for a cherry and apple galette was born.
What is a galette?
Ah, you've never met a galette before? I'll introduce you. It's basically a rustic free-form pie, a simple pastry that can be sweet or savory. I discovered the galette years ago when I was searching for things to make when our plum tree exploded with over 100 lbs. of asian plums. It became my go-to way of using plums that didn't go in preserves, butter, or one year, wine (that experiment did not go well). It's easy and quick, which makes it a terrific last-minute dessert, and looks and tastes like you purchased it from a French bakery.
Yes this is a mini food processor…it's ancient from Black and Decker…this one looks to be the newest version. Great for chopping nuts, herbs, homemade salsa or my husband loves it to make his nuc mam for noodles bowls!
How did cherries join the party?
So why apple AND cherries? I love an apple galette (so good in the morning with coffee), but I had just half of a huge honeycrisp apple to work with (daughter had used the other half for aforementioned snack with PB), which is where the cherries came in. I had just bought a giant bag of organic dark sweet cherries from Costco, and I knew they would play nicely together…the slightly tart, sweet cherries are perfect with a sweet apple.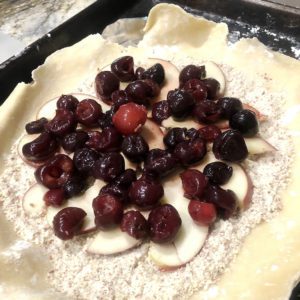 I've always made my fruity galettes with an almond flour base. It does a great job of soaking up excess juice (necessary with plums!), and the almond gives it a little depth and texture. While apples aren't super juicy, nuts and apples just go together so I stuck with my usual 'base' recipe.
Use whatever apple you have on hand
If you go sweeter, just use less sugar, if you go full granny crisp, you might need a bit more sugar to balance the tartness. And one of the perks of the galette is that amounts don't need to be exact. Just make sure you don't pile too high as the apples will take too long to cook through and your crust will get overdone (not as big an issue with berries…or plums!).
In the coming weeks I'll share my go-to pie crust recipe (super simple, and done in the food processor!), but use your favorite pie crust recipe for this, or store bought works just fine.
Comment below with any questions, and let me know if you get your galette on!
Cherry-Apple Almond Galette
Zhuzh up the fall-favorite Apple Galette with the addition of dark sweet cherries and a yummy almond base.
Ingredients
1

pie crust (store bought or homemade)

⅓

C

whole almonds

2

Tbsp

all-purpose flour

2-3

Tbsp

sugar (divided)

1 ½

C

dark cherries

1

small apple, thinly sliced

2

Tbsp

milk (or enough for brushing)

dash

nutmeg

drizzle

of extra virgin olive oil (or couple pats of butter)
Instructions
In a food processor, pulse the almonds, flour, and 1 of the tablespoons of sugar together until it resembles a coarse flour.

If using homemade pie crust, roll the dough out on a lightly floured surface until it's about 14" round. Transfer to a foil or parchment covered cookie sheet.

Now spread your almond flour mixture evenly over the pie dough, leaving 2 inches of dough around the edge. 

Arrange the apple slices over the almond flour mixture, spaced evenly.

Evenly distribute the cherries over the apples, and add your dash of nutmeg to the top.

Fold the pie dough edge up over the filling (you'll need to 'pleat' the dough every few inches).

Brush all exposed pie dough with milk, then sprinkle remaining sugar (1-2 T, depending on taste and sweetness of the apple used) over the crust and filling.

Refrigerate for 30 minutes (to firm the pie dough). Preheat the oven to 400°.

Bake for 40-45 minutes, or until the crust is golden.

Drizzle with the olive oil (or scatter a few small pats of butter). Let cool slightly before serving. Fantastic with vanilla ice cream!
Tracey is the founder and writer of Life in the Happy Medium. She's also a freelance graphic designer, Mom to 2 teens, Wife, and Friend to a tribe she holds dear, who's prone to some fairly serious car singing and dancing much to her family's chagrin (old school R&B is where it's at!).
From cleaner beauty to healthy-ish eating, she's blogging here to share favorite finds that keep her happy in the middle.
Disclaimer: This page includes some affiliate links, and I will earn a commission if you purchase through these links. Please note that I've linked to these products purely because I recommend them and they are from companies and brands I trust and have tried myself. There is no additional cost to you.